Over the past few months, Springers have been immersed in the world of James Bond and Champagne Bollinger. Hey, it's a hard job… We've been busy creating a variety of blog, social media and design content to support the imminent release of Skyfall and Bollinger's new limited edition champagne to celebrate their connection.
Today is international James Bond day, the official 50th birthday of Britain's most debonair spy. To commemorate this exciting event, Champagne Bollinger commissioned Spring to design an image for exclusive use by Champagne Bollinger's facebook fans – an eye-catching and stylish facebook timeline cover.
This elegant design references their 'Life can be Perfect' bottle mosaic campaign, taking as its basis the 002 for 007 bottle which has been launched as a special edition for Skyfall. Senior Spring Designer, Bex Spillings, worked with Erika Clegg art directing, to create a peacock tail image which makes a real feature of the bottle's green and black colouring and in so doing echoes popular Bond iconography from the last 50 years.

If you'd like to join the Bollinger fans celebrating this event on Facebook today and up until the launch of Skyfall you can download the Facebook timeline cover design here.
The limited edition 002 for 007 champagne launched exclusively in Harrods on the 17th September, with Spring creating an online fanfare across social media platforms and Bollinger's website.  Harrods main window has been transformed into a Bond and Bollinger bar for the event, with mannequins representing Bond and Bond girls congregating around the Bollinger 002 for 007 bar.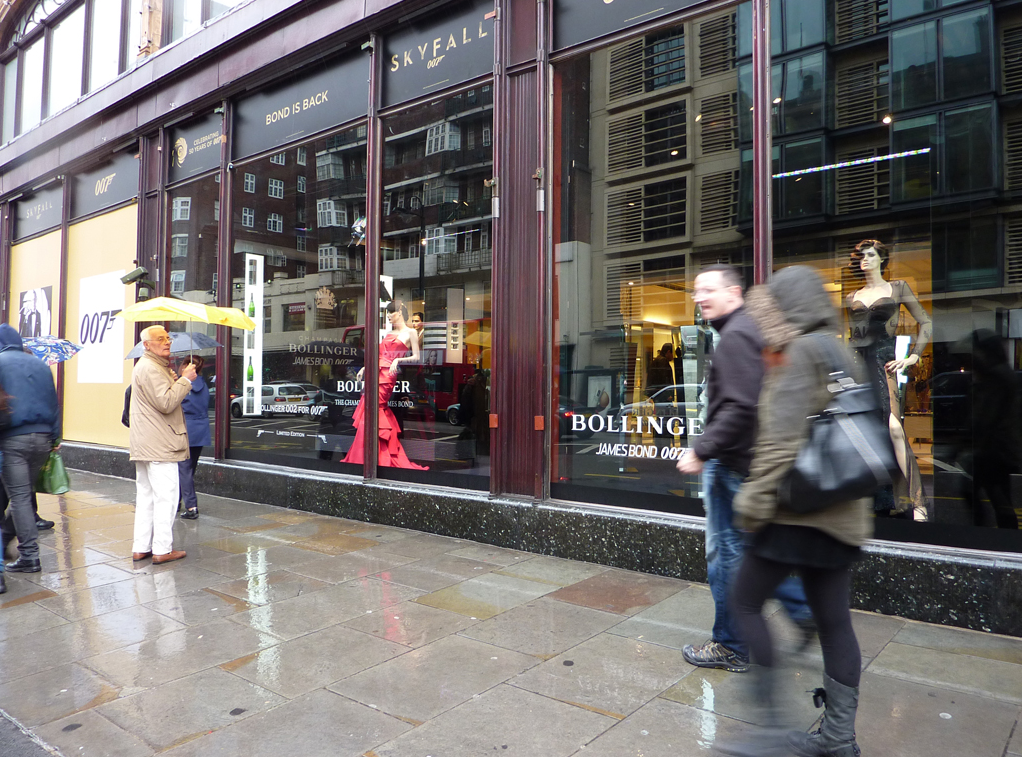 Once the Champagne was taken to general release, Spring supported the roll out with continued social media announcements and blog information.
Going further back to the start of the summer, we created a retrospective of the thirteen James Bond films which have featured Champagne Bollinger. This month-long celebration made the Bollinger blog its home, from which we seeded content across Bollinger's Social Media channels. Despite a concurrent facebook migration, this content campaign saw good levels of traffic across the website and social media platforms – testament to the deep affection felt for both brands by their audience.
Throughout the whole period, and around these specific activities, we have been drip feeding general Bond content into the blog and across facebook and twitter.
The next exciting event is the premiere on the 23rd October, which Spring will be following to keep Bond and Bollinger's fans up to speed with all the action from the premiere and VIP Bollinger party.