Back
British Psychological Society
Champagne Bollinger
Circus Hassani
Cottage Holidays
DanceEast
Hollow Trees Farm
Laragh Homes
NHS North East Essex
Nursing and Midwifery Council
Visit Suffolk
Adnams
British Psychological Society
Circus Hassani
DanceEast
Gainsborough's House
Jordon Freight
Laragh Homes
Look Sideways-East
MH Goals
NHS North East Essex
Nursing and Midwifery Council
Client
British Psychological Society
Project
Design: Making the move to Digital
Objective
To help digitise the membership renewal process for the British Psychological Society, and encourage its members to make the switch to online renewals and paying by direct debit.
Results
Costs involved in the renewal process have been reduced - we are currently waiting for the year-on-year savings for this, but we expect them to be substantial
A suite of communications materials which have been used to contact over 70,000 BPS members
As a society of over 72,000 members, the traditional paper-based method of yearly membership renewals for BPS was expensive, time consuming and damaging to the environment.
To support a move to digital renewal, Spring helped BPS announce the change through a range of media including print materials, to encourage the members to switch their renewal method to digital.
We worked in an elegant gold and white colour palette, and wrote copy in the new tone of voice which highlighted the benefits of moving to an online renewal system and paying by direct debit.
We also varied the copy within the series of communications to target the different audiences which had been identified by BPS, and these were then delivered by email and letter.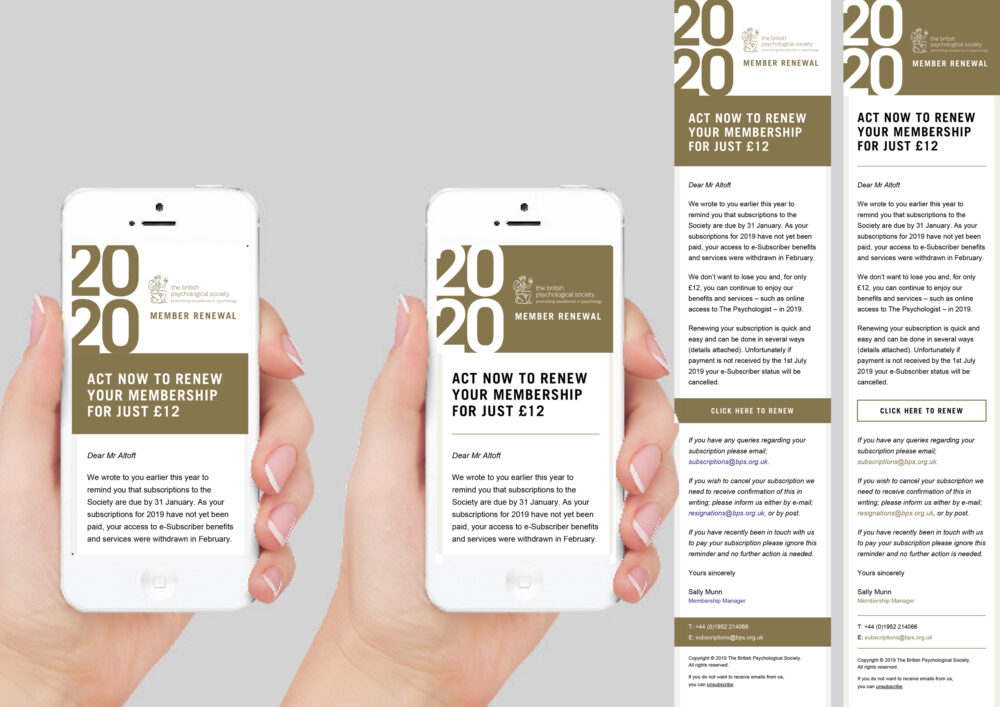 To support a move to digital renewal, Spring helped BPS announce the change through a range of media including print materials, to encourage the members to switch their renewal method to digital