Back
Moroccan National Tourist Office
Visit Norwich
Visit Suffolk
Agellus Group
Benjamin Franklin House
Bentwaters Parks
Booja-Booja
British Racing School
Bruisyard Country Estate
Circus Hassani
Cottage Holidays
Cromwell Museum
DBA
DanceEast
Greenhouses Direct
Havensfield Happy Hens
Haverhill Arts Centre
Hollow Trees Farm
Hopkins Homes
Jordon Freight
MH Goals
Marriage's the Master Millers
Moroccan National Tourist Office
Seachange Arts
Smart Garden Offices
The Original Cottage Company
Visit Suffolk
Client
Gough Hotels
Project
Website: fun on sea, on-line
Objective
To increase awareness of - and visits to - Southwold Pier, especially off-season, for visitors within an hour's radius.
Southwold Pier is one of Suffolk's most iconic structures – stretching over 600 feet into the North Sea, it's an essential part of this quintessentially British seaside resort's charm. So when owners Gough Hotels asked us to create a new website for the Pier, just a pebble's throw from our Southwold studio, we jumped at the chance.
The result is a fully responsive website which reflects the fun, slightly quirky experience that draws people back year after year. We led with a screen-filling video on the homepage, which took viewers on a whistlestop tour of everything the Pier has to enjoy. Beyond this we used strong imagery and compelling copy to populate the rest of the site and convey all that people love about the Pier.
We backed up the launch of the website with a digital and print marketing campaign to reach people who may not be aware of everything the Pier offers.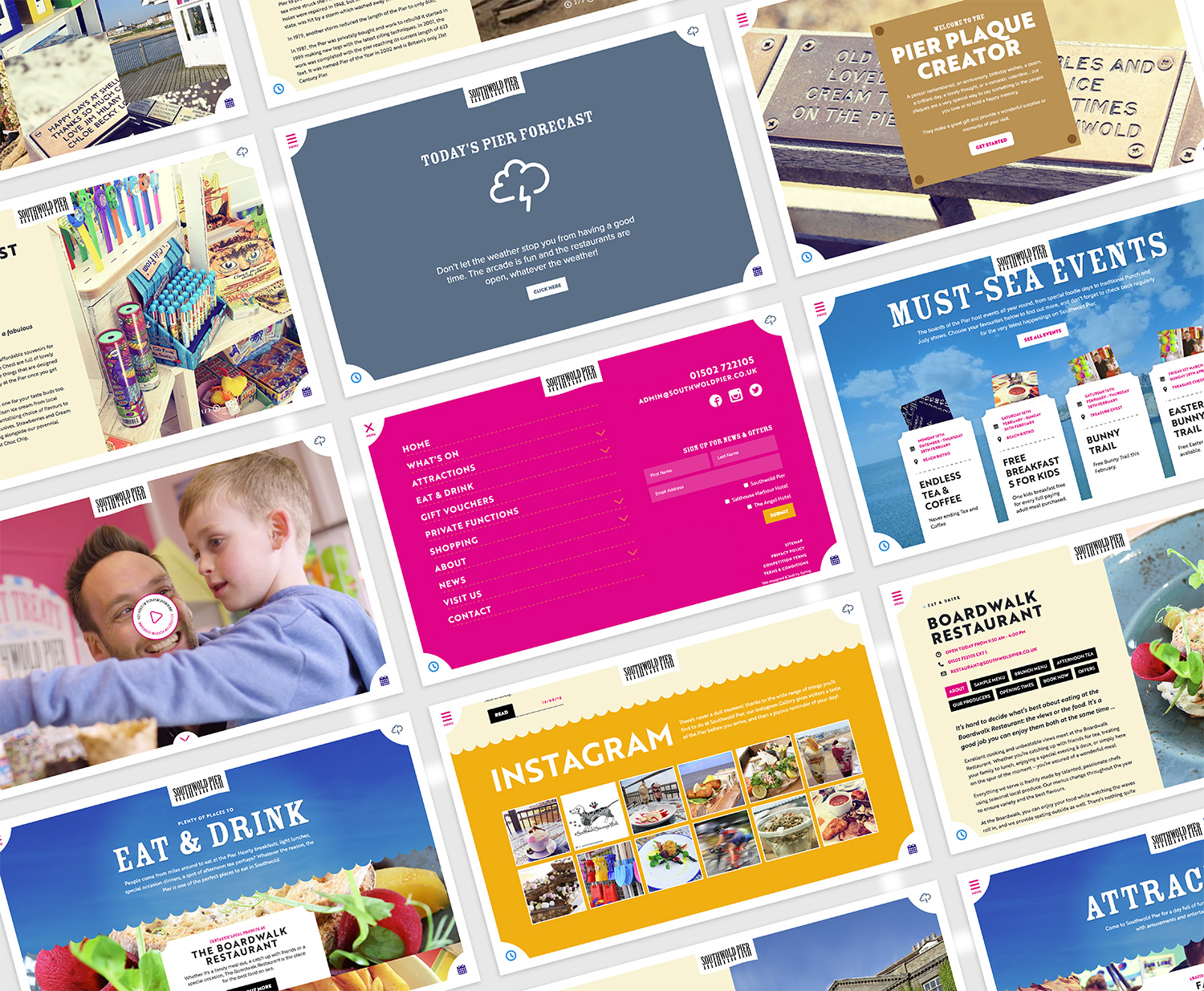 We started working with Spring in January 2018, as we were looking for an agency to help drive the business forward and also redesign our website. We were keen to work with a local company who not only understood our market but who were just down the road if we needed them. Chris was appointed as our account manager and I can honestly say he was amazing, as was George who came up with the design for the new website. They both guided me through the website build and made sure that at every point I was happy with it. They were also full of ideas to push the business forward and always had the kettle on whenever I was visiting. Thank you to you both for a fantastic job and I'm looking forward to working with you in the future.
Fiona Bovill
Group Sales & Marketing Manager