Spring's Erika joins Government apprenticeships panel
Erika Clegg, Spring's co-founder, has been announced as a member of the government's Apprenticeships Route panel for digital industries, engaged by the Institute for Apprentices.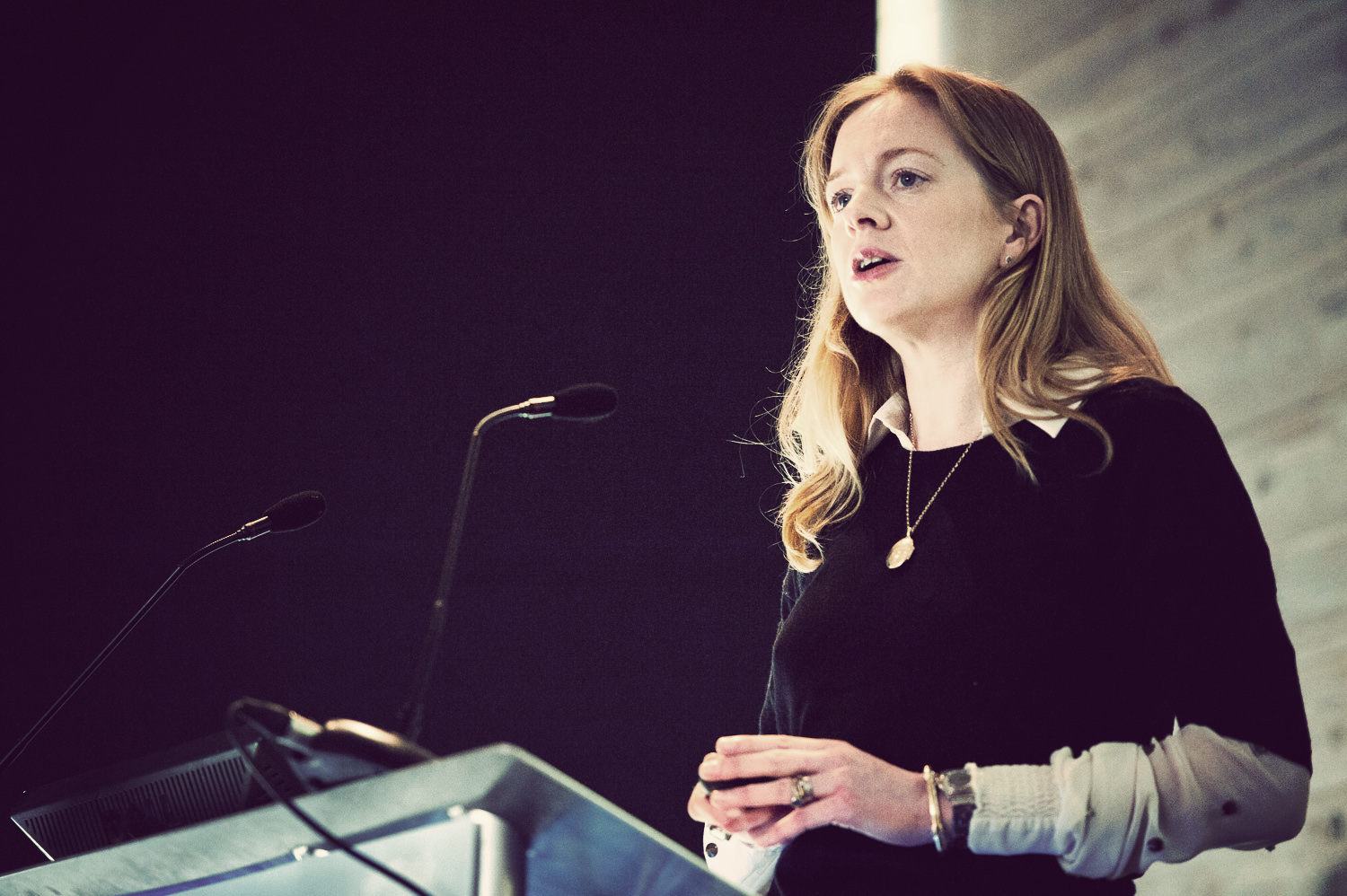 Fellow panel members include Adrian Cunliffe, CTO of Hive; Dominic Gill, apprenticeships lead at Microsoft and Mark Sherwin, Global Digital Customer Services Lead at Accenture.

Across the whole Apprenticeships Route initiative the Institute for Apprentices has recruited 94 leaders and experts from a range of industrial and private-sector backgrounds, who will play a fundamental role in determining the development of apprenticeships within their sector.

Since its establishment in April 2017 the Institute has taken steps to put employers at the heart of every stage of an apprenticeship's development. This starts with the employer groups putting together the proposal for each standard through to the Institute's own Board members, who are employers and industry experts, and ultimately accountable for each standard.

Coastal Britain – Why we love it
As a company that chose to follow its ambitions by the seaside, we have been fascinated with BBC Breakfast's focus on life in Coastal Britain this week.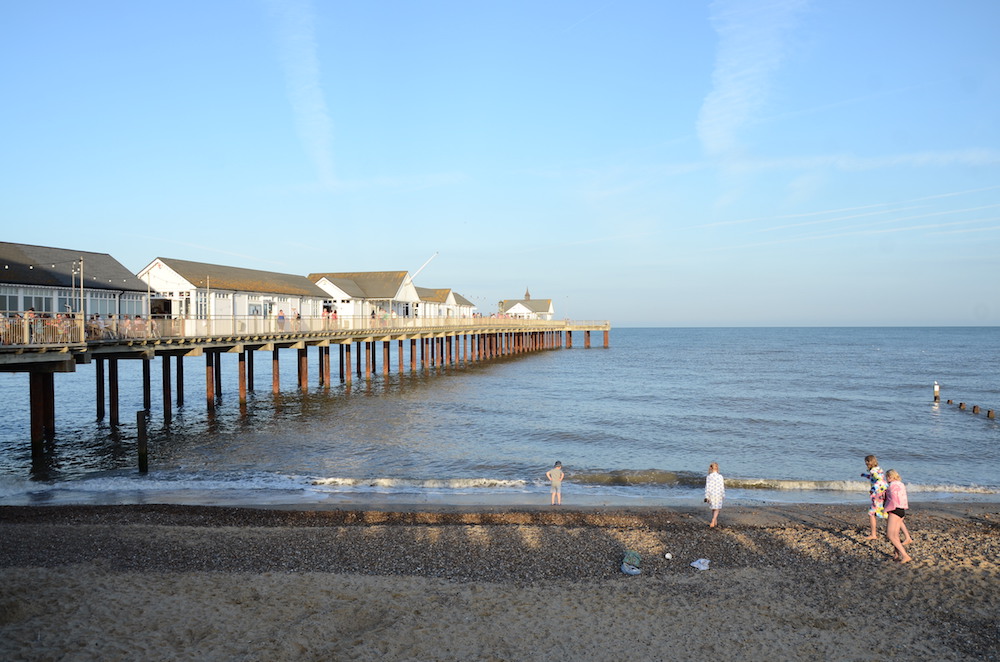 The series revealed a great deal of love for the coast, both by people who live there and by those who only get to visit occasionally – and we can only agree!

Study after study has confirmed the benefits of living by the sea, both for your physical health and your mental wellbeing. This can be attributed at least partly to the opportunities living by the coast provides. For instance, you'll find Springers in the sea before work, at lunchtimes and after work for at least four months of the year, and the beach is a great place for relaxing, working out and the occasional meeting. It's also a constant source of inspiration – a vital commodity in a creative agency.

The lifestyle is different too – it's very easy to find solitude and peace at the coast; being able to get away from the continuous roar of traffic and glare of artificial lights.

There is a rising trend for young, talented people to move to the coast, shunning the over priced, over pressured life of the big cities for somewhere that has all round benefits.

On Friday the BBC spoke with designer Wayne Hemingway about the future of coastal towns. His company, Hemingway Design, known for the rejuvenation of Margate, has been brought in to consult on a regeneration project for Lowestoft's South Beach area, just ten miles north of Southwold. Spring designer Lynton Wall-Palmer met with him earlier in the year when Hemingway was in town to address business leaders and community groups.

"Lowestoft has great potential and there are things we can improve without spending a lot of money," Hemmingway said.

"As always there are barriers, people who don't want to believe, but this is about opening minds to try new things."

We came across the same barriers when setting up Spring, but over nearly eleven years we, along with many other businesses have changed opinions. It is possible to run a successful business by the sea – and enjoy the benefits.

We're always looking for fresh talent. So if you're interested in working for Spring and enjoying some of the benefits of the seaside, please get in touch here.

Chamber key note speech, in full
This is the full transcript of Erika's talk to the Suffolk Chamber of Commerce earlier in the summer.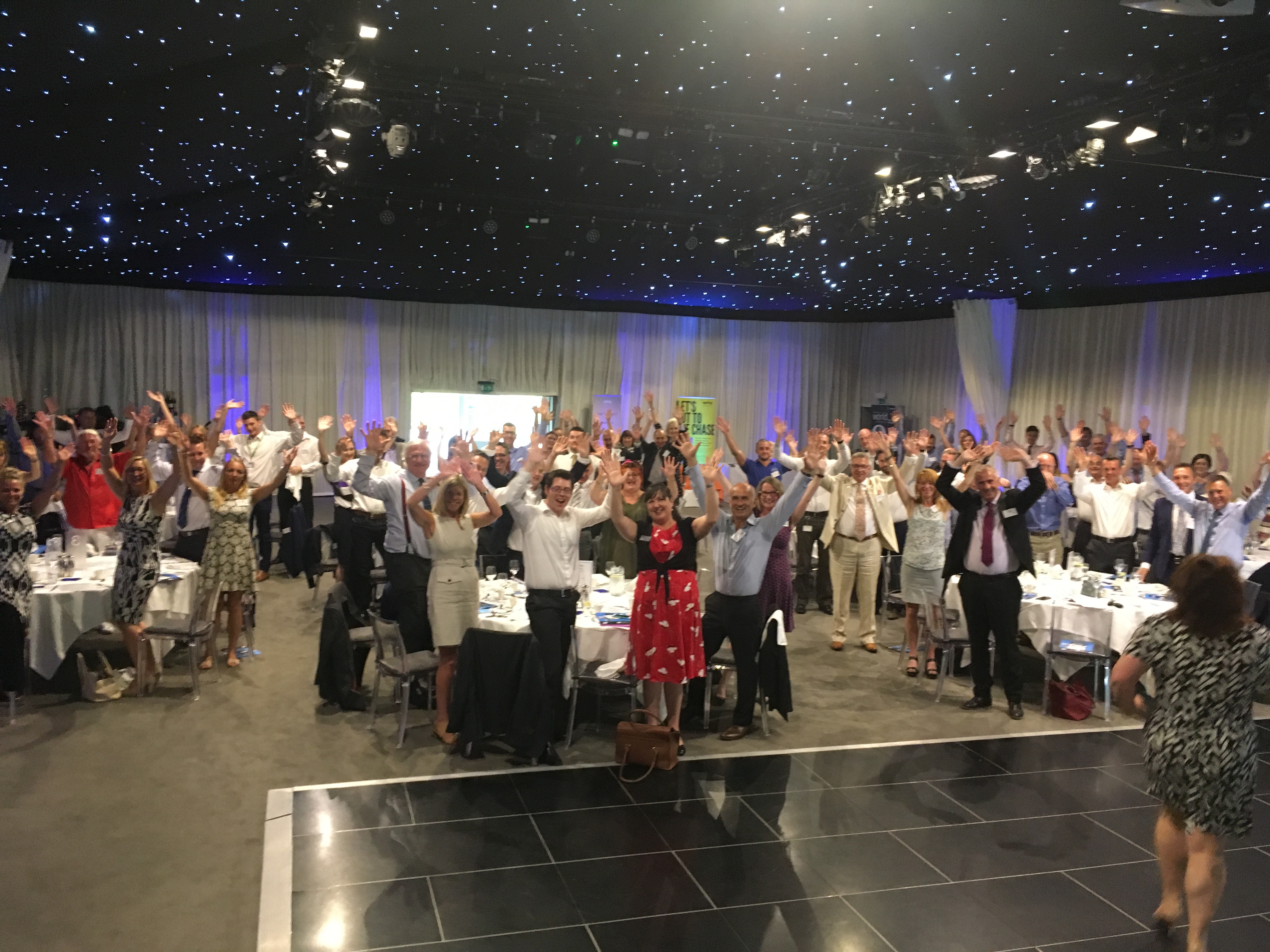 Thank you for welcoming me along today.
As many of you know I'm from Spring, and what Spring does is help businesses, organisations and their people change for the better using communications. We're working with Colchester Hospital, Morocco's tourism office in London, Greenhouses Direct, Anglian Water and the East of England's cultural tourism growth project amongst others. We're a full service agency and love working with brands, product launches, public consultations and multi-media marketing campaigns.
My plan today is to share with you some thoughts and tips on how to shape your brand's communications strategy for real impact in our rapidly changing world. I'm going to share some updates on social media use, insights to how to make people change their behaviour, and a run down on how Spring works to really get under the skin of the communities our clients want to connect with.
Essentially, I'm going to talk about people power, or what we might more traditionally call democracy.
I think we'd all agree that democracy is a good thing. With all but the most benign dictator, lack of democracy leads to polarized and often cruel societies. But democracy has brought about a few surprises in the last 12 months. The Brexit result was a year ago today. In the 12 months since then we've seen billionaire Donald Trump elected to the White House and the Tories campaign themselves out of a clear lead into a hung parliament. Politicians have gambled based on their assumptions.
And what this makes abundantly clear in a political sense is that the established means of gauging people's thinking aren't working. Pollsters are getting it wrong every time. Speech writers and spin doctors seem out of step with public opinion.
And if we think we can predict results from our own social media streams, it's worth remembering that Social media is an echo chamber, in which we unwittingly filter out information that doesn't resonate with us. Our news streams, friends and 'likes' mean that, the longer we participate in any digital activity, the more the content we receive reinforces our prejudices. This is why the events of the last year may have come as a shock to some of us, and not at all to others.
We can't change politics (although if you care I'd beg you to fight for it rather than complain), but we can harness this new people power to grow our businesses. Social media and the sharing economy have democratized brands. In developing the 'Participation brand index' which ranks brands by their ability to get their customers acting as their ambassadors, the communications network Iris acknowledged as its starting point the obvious but often neglected fact that it's people, not brands, that influence people. And the closer you can get into real social groups, the more influence you're likely to grasp.
So in order to deliver what people want, you need to really understand them and their circles, and then tell them about your business in ways that will appeal to them, in places they hang out. Deep understanding of your audience will even lead to reduced marketing costs and lower risk product development.
Apple, for example, sees people queue for hours or even days in readiness for a launch. The phone will be just as good three days later, and there's no issue with supply and demand – it's simply a social policy amongst a certain group to aim to be first with the new kit. The more participation brands allow their fans, the more they are likely to become loyal advocates. And it's important to allow them access to rounded information, not just the topline stuff. Fans are geeks, and will by psychological process fixate on the good stuff but these days smoke and mirrors are easily detected, and apparent inauthenticity despised.
In fact if your organization is involved with behavioural change, it's absolutely essential to show both sides of the coin. It's only when people are allowed to rehearse fully rounded arguments that change can begin (otherwise their embedded prejudices will simply cause them to argue against your point). Authenticity is essential for so many reasons.
The other thing to note is that whatever you do, however mundane or necessary it seems to you, there is something special about it and someone will love it. At the heart of every single project Spring takes on is an insight and it's the thing you get when you blend your brand's purpose with your audience's wishes. I can guarantee to every one of you that your business – as long as it's functional – has something unique and wonderful about it. We specialize in finding it.
So we know that we want to engage with fan groups; however there is now a groundswell of privacy and selective engagement that brings its own challenges.  Whilst we are of course glad that our children are doing their snapchatting in relatively safe circles, the challenges that brings to us as businesses are not insubstantial. It's no longer enough to have a content strategy – you need to be rigorous in how you target it, craft it and connect with community influencers.  In fact, now 70% of on line sharing happens in what's termed 'dark social' – things like Snapchat and messenger apps that limit audience to a select few.
Smart Insights – a useful online planning advice site – put content marketing and big data at the top of the list of 2017's digital marketing trends. The key is the blend of the two to create and deliver a content campaign which is strategically led, tracked for return on investment, and tailored specifically to clearly defined and well researched audiences. For this the industry works with 'predictive analytics' which are basically a combination of automated and manual trend tracking that allow you to build change into your communications quickly. So for example, if you're relying on standard social networks for profile you might have to think again: there's a rise in small, niche networks like fishbrain (for keen fishermen and women) and Tastebuds (for foodies? No, for local music fans).
Given that the average consumer checks their phone 150 times a day, there's a lot of competition to interest them, so you've got to focus to help them focus. (And incidentally if you're on social media, how do you cater for those 150 checks a day by every one of your followers?) Of course Facebook, Twitter and Instagram are necessary and on the rise, but it's slowed. Twitter added 31m new users in the last two years, Facebook 476 million, but both Whatsapp and Messenger have added more than 500 million users.
What's my point?
Firstly, you might need to review your social media strategy. Yes, build in the big platforms but consider investing budget into a nimble, research- and response-led social media process where you are primed ready to engage with new channels, new bloggers, and using new messages. For example, there's a growing push to connect with micro-influencers, the people who have 2,500 followers rather than millions. They're more authentic, likely to be more engaged with their followers and more accessible.
Secondly, if you're using social media for research, you might need to take the insights you form with a pinch of salt. It's that echo chamber again – the Twitter feed that told you Brexit would never happen? It's based on your preferences. It's likely that for your brand, the most impactful influence will come at a smaller, more tightly targeted and probably changing level. It's not easy, but it is effective.
Of course for our lives in places like Suffolk this is good news. People are hunkering down and valuing their communities, and as a county that offers its people strong community behaviours that simply underscore the value of our way of life. But it does mean that you're going to have to find ways to engage with your community of customers that are, in some ways, rather old fashioned.
It is good, of course, that digital marketing has allowed you to become much more selective about who your brands target and to track the results of your work in real time, giving you much more power over your campaigning. However, the challenge comes from this passing a large part of the ownership of your brands' reputation to its consumers, with their increased direct access to your brand and its platforms causing a shift in the balance of power. Although brands can influence their reputation through their actions, consumers are alert for inauthenticity, brush-offs or slacking – and sometimes people are just mischievous. This new world calls for a new perspective on targeting consumers, with deeper and more personalised understanding of people's lives, allowing your brands to meet them on their own turf, in their own language with a good handle on their needs, motivations and concerns.
From global juggernauts such as Coca-Cola to Government, brands are all looking for ways to understand customers better. Research increasingly demonstrates that both understanding and influence happen more effectively the closer to a consumer's comfort zone you can get. In its 2016-17 Communications Plan, the Government acknowledges this shift, saying: "Trust in branding increases when delivered in a local context." The other advantages of community-based interaction include risk limitation, with brands' chances of hitting target – and not launching with a misfire – being increased by well targeted research within a focused community. With that comes effective use of budget, efficient use of resource, and the opportunity for great return on investment.
What is more, many of the most transformative actions take place within hard-to-reach groups, which are again far more accessible through genuine community understanding than any other means. Incidentally, a hard to reach group can as much be the super-wealthy as it can the more traditional meanings of the phrase. The reality of the matter is that digital marketing as a route to researching and communicating with the market is a useful tool, but it's not the only tool and, as I've explained, its very easy to misinterpret. In fact, Facebook's new manifesto in response to the criticisms that have been levelled at it demonstrates a deep desire to support traditional, tolerant and empathetic communities – effectively turning the platform back out into the real world.
And Spring has generated a programme called Hyperlocal Everywhere that is designed to help people really get to grips with communities. We have also launched a national network of regional communications agencies, called the Hyperlocal Everywhere Network, covering every part of Britain, which has already found its way on to the government's communications framework. It allows public sector organisations and brands delivering national campaigns to focus separately on clearly distinct communities rather than trying to deliver a one size fits all campaign.
This comes from my own early agency days, when I worked with Nomura to create tailored marketing strategies for the sell-off of Ministry of Defence housing units. These were on military sites across the UK, sold for 20% less than market rate to eligible community members. I originally referred to this understanding of community influence as 'the power of the Rotary Club'.
The idea is that influence in communities, whether they are geographic or demographic, comes not just from the elected and high-ranking, but also from the people who, through character and connections, are the lodestars of their own groups. These are what might be called early adopters or thought leaders – and they are as likely to be bar staff, nursery assistants and bus drivers as they are priests and politicians. Communities trust these people, valuing their opinions and so they present brands with an unprecedented opportunity to gather understanding and disseminate messages with maximum impact.
What's also clear is that from one community to another, hopes and fears may be completely different – even if, by standard research categories, those communities are very close to one another. In order to understand and tap into what influences consumers at a hyperlocal level, you need to uncover the needs and motivations of a small community, its real leaders, the language in which the community speaks and the platforms through which it communicates with its members.
When businesses are able to access and use this data, it creates a strong platform for any consultation process, marketing campaign or communications programme. If you work this way, your aim would be to capture the outcomes and organisational impact of hyperlocal marketing activity, demonstrating behaviour change as a result of your work. This cannot be achieved through just desk-based research – by necessity the data must be on-the-ground, face-to-face and personable. In fact, it is a pleasantly old-fashioned solution to a rather modern shift.
And the reason why this is a successful approach is that it is widespread, uncovering the hive of small, highly individual communities. It's about full engagement with real people in their own territory, in a way that can prepare the ground for fundamental change at grassroots level.
When Spring was appointed by New Anglia LEP and Arts Council England to raise the profile of Norfolk and Suffolk as a world-class cultural destination, we used our Hyperlocal Everywhere programme to identify the lodestars that would carry a new tourism brand for the region and use it to mobilise a bigger, broader audience. More than 50 cultural organisations now carry our Look Sideways – East brand with pride.  This has enabled them to evolve their communications, work together, develop new product and build their markets to achieve a 15% growth in cultural tourism in the first year of the campaign. The results of effective, ongoing hyperlocal activity provide powerful insights for marketing briefs and business growth strategy with an influence on everything from advertising to PR, staff engagement to CSR policies.
The approach has also been used time and time again by public sector organisations and others who need to influence behavioural change, deliver outreach or canvas opinion in a way that generates honest responses. For construction and energy businesses, for example, it is an effective way to meet their planning obligations.
Whether you deploy this or more traditional research methods, now is undoubtedly the time to put your energies into unearthing this level of insight. People power is here to stay, and the better you understand communities and demonstrate respect for their behaviours, the more relevant and successful you will be.
So to summarise, my advice to you is this.
Remember that your preferences turn your social networks into a place that simply reinforces your prejudices
Note that younger social media users are getting better at hiding
Don't rely on the big networks for research or marketing – work hard and balance them with smaller networks and different media
When you're making an argument, show people the other side of it too
Define what makes you special by balancing your business's purpose with your audience's needs
There's no quick way to digital glory – it's getting more fragmented by the day and you're going to have to put the hours in
If you're trying to influence with a community, look for people with face to face influence and target small networks as well as large ones
Get up from your desk. Get out into the street. Sit with the people you're targeting and listen.
And of course, if you know you need change and it feels like Everest, chat to Simon or me.  We'll help you make it.
On purpose
Simon Sinek calls it 'Why?'. Current parlance is 'purpose'. It's become the fundamental principle of effective branding. So what is it, and why does it matter?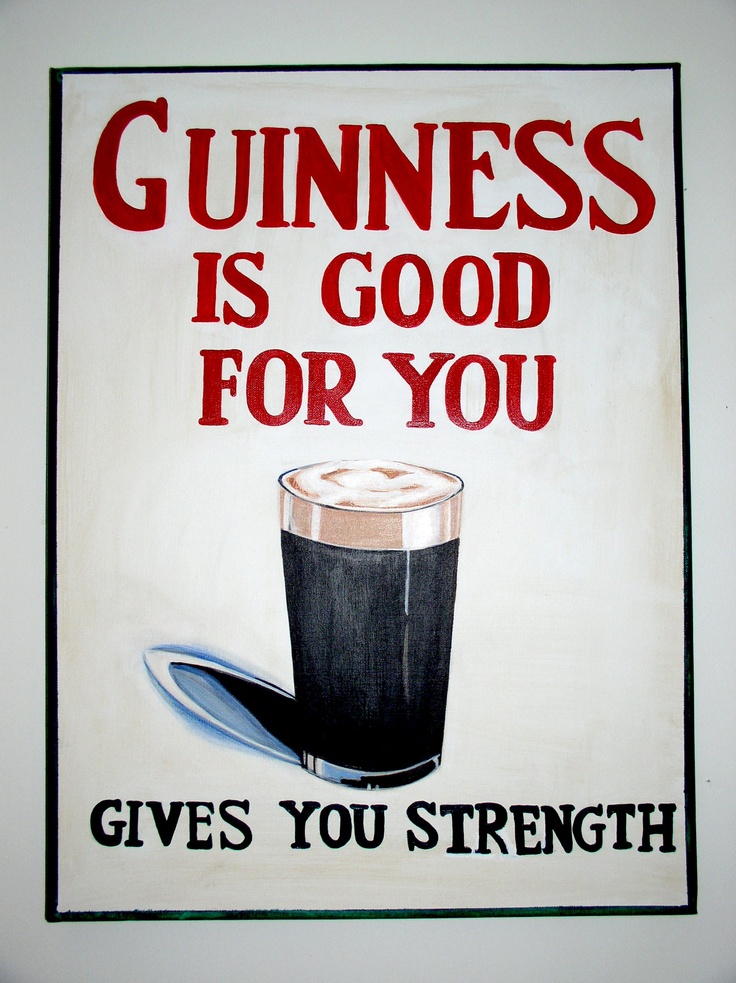 Time was when brands could make bold statements about themselves and that was what the dominant message became. For one thing, there were far fewer consumer brands, and for another, consumers had no way to publicly broadcast their own opinions (unless they wrote to Esther Rantzen). Lack of choice and lack of amplification allowed marketing departments and agencies a relatively free rein in their choice of messaging. We were a trusting bunch too, generally respecting authority and happy to toe the line.

But now.

There are 158 banks registered in the UK. We have 36 toothpaste brands, each with a multitude of sub-brands. Across Britain's high streets you'll find around 23,000 coffee shops. We are swamped with choices.

95% of young adults follow brands on social media, but 96% of people who discuss brands on these platforms don't follow those brands' profiles. Meanwhile, brands can be as creative as they like on social media, but it's responsiveness to customer enquiries that matters most (people expect an answer within an hour) and promotions just behind. In other words, social media is a place for consumers to express an opinion and for brands to provide a service.

Added to this, there's been an increase in consumer mistrust that's growing exponentially – not helped by politics, where mistrust has become embedded and created a wave of general cynicism. 70% of consumers don't trust advertising and 42% actively distrust brands, with the same percentage of US consumers stating that they trust brands less than they did 20 years ago.

And what do people do when they feel force-fed nonsense and have licence to rebel? They take the mickey. A recent National Lottery twitter campaign, where the cause felt good – the lottery's support of British athletes – attracted a storm of comments ranging from the amusing to the downright unpleasant. (You don't have to be Walkers Crisps to stir up people's naughtiness.)

So we come to a place where there is a maelstrom of competition. Where trust has eroded. Where people have the power to comment, demand and subvert.

And that's why the definition of purpose has become an absolute core requirement for brands. It reaches back to the very reason for a brand's invention, and sometimes the process of defining it delivers some unpleasant home truths.

For a brand to have real purpose, the people who use it must actively need or want it. It has to meet their expectations. It cannot drop its standards, either in its core essence or in its social interactions, service delivery and community engagement. Purpose cannot be invented, or the product of a creative imagination: it must be grounded in truth, rigorously questioned and fundamental to every strand of brand behaviour.

To earn back trust, brands must be self-critical and consistently honest, expect everything of themselves and very little of their customers. That means that these days, a branding agency's focus must be on supporting their clients to really get to grips with this – which means that any brand programme these days must focus as much on internal communications as external, on corporate processes as well as campaigns.

In my view it's never been a more exciting time to run a business like Spring, where our expertise is understood at board level to be fundamental to the survival of brands. We love helping our clients to find their purpose, ensure it's applied rigorously and flourish from its delivery.

How brands can reconnect with their audience outside the M25
Recent research from Trinity Mirror has revealed that national brands are failing to connect with people living outside the capital.
The survey, carried out by BDRC Continental, took a representative sample of over 2,000 respondents from across the UK and asked how they felt about 56 of the biggest brands in the country. The worrying results showed that 47% thought the brands were out of touch with people in their local area, and people outside London were 11% more likely to agree with this statement. Non-Londoners were also 25% more likely to say brands don't understand people in their local area.

Four fifths of the brands featured in the survey received a negative relevance score from respondents, but brands that were seen to be more local, such as Co-op and Yorkshire Building Society, generally received more positive scores.

As an agency outside the London bubble, we are all too aware of the perception that brands favour the capital and the people that live there. We also know how damaging this breakdown between brand and consumer can be.

This disconnect is why Spring has created HyperlocalEverywhere™, a process that is designed to reveal in-depth knowledge of a community by engaging on the ground with real people. Our system identifies what the community's needs are, how it talks amongst itself and with others, who influences it, where it goes and what makes it tick, ensuring minimum wasted spend and maximum impact.

As consumers increasingly own brand reputation, this active engagement allows brands to join them at their own level. It's a process we have used numerous times, with clients including EDF, Adnams and the Moroccan National Tourist Office.

It's proved so successful that we've rolled it out across the country, forming the HyperlocalEverywhere™ Network – a partnership between like-minded agencies across the country. The network and project delivery is managed by Spring but allows us to involve award-winning teams from Freshfield in the North West, The Karol Marketing Group in the North East, Plinkfizz in the Midlands and purplefish in the South West.

To discover more about HyperlocalEverywhere™ use this link and start connecting with your audience where it really counts.

Challenges, and how to overcome them
Spring founder Erika Clegg was one of several industry leaders recently approached by Design Week to share their most difficult experiences with clients, and – more importantly – how they overcame them.
Ryan Jones from Sea Design recalled a time when a drunk photographer wreaked havoc on their first photoshoot with a global sports brand. Luckily the quality of the shots and some quick talking convinced the client to forgive them.

Jamie Ellul of Supple Studio told a cautionary tale of how assuming clients will already understand the design process can cause great problems, while Chomoi Pich-Owiny at Blue State Digital has a solution for when clients let subjective opinions lead their decisions – launch two completely separate campaigns and let the real world be the judge!

And Erika's answer?

"Frustrated after a short run of morale-sappingly inconclusive projects a few years ago, I identified a common trait in the clients with whom we produced our best work – irrespective of the nature or complexity of the brief. They've all got an appetite for change, and are keen to work collaboratively with us to get there. Since identifying that's where we add best value, we have built Spring's positioning around it.

"With Agency for Change as our URL and an active ethos – designed to deliver change – this is the starting point for all our projects and relationships. This filters out clients that are not going to stay committed to the process before they even arrange a chemistry meeting. Clients who genuinely want or need to change trust us to deliver it, and are often willing to take greater creative leaps to achieve it than others."

The question was in response to news of a new exhibition, examining the relationship between client and designer. You can read the complete Design Week article here. And if you've got an appetite for change and want to take the next step then get in touch with us to find out how we can benefit your business.

A Change for the Better
Being the Agency For Change, we are naturally interested when we hear someone else talking about the benefits of change. This is why a piece in the Harvard Business Review by top organisational psychologist Nick Tasler recently caught our eye.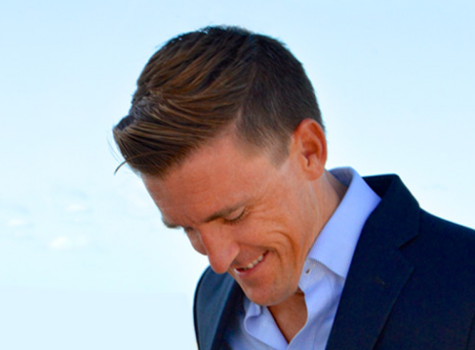 Entitled Stop Using the Excuse "Organisational Change is Hard", Tasler explains that we have an unconscious bias towards failure when it comes to change initiatives. Studies have shown that people regard success that stems from change as a fluke, whereas any blips or small problems are a sure sign the project is doomed to failure.

As he says, "In organisational change initiatives, our negative biases can create a toxic self-fulfilling prophecy. When a change project falls a day behind schedule, if leaders and employees believe that successful change is an unlikely outcome, they will regard this momentary setback as the dead canary in the coalmine of their change initiative. (Never mind the fact that three other initiatives are still on time or ahead of schedule.)  Suddenly, employees disengage en masse and then the change engine begins to sputter in both perception and reality."

This sudden lack of momentum can stop a change project in its tracks, leading to a company falling back into its comfortable old ways, missing the opportunities the change was set to achieve, and potentially causing the organisation to fail entirely,

To counter this irrational bias it is important we, and everyone who is part of the change initiative, have the right perspective on change. The same studies that highlighted this unconscious bias towards failure show that it takes just a small nudge in the right direction – such as pointing out that actually, most people do in fact successfully improve with a little bit of work – to effect a change in expectation that swings from negative to positive.

Tasler again: "Every time we feel the impulse to say "change is hard," we could make a different claim that is every bit as accurate: Adaptation is the rule of human existence, not the exception."

You can read the full article here. And if you want to find out the positives change can bring about in your business, get in touch and let's talk.

Image taken from www.nicktasler.com

Good Work report highlights need for Clarity of Purpose
We've been looking forward to seeing Matthew Taylor's review of

Good Work

, which was published yesterday.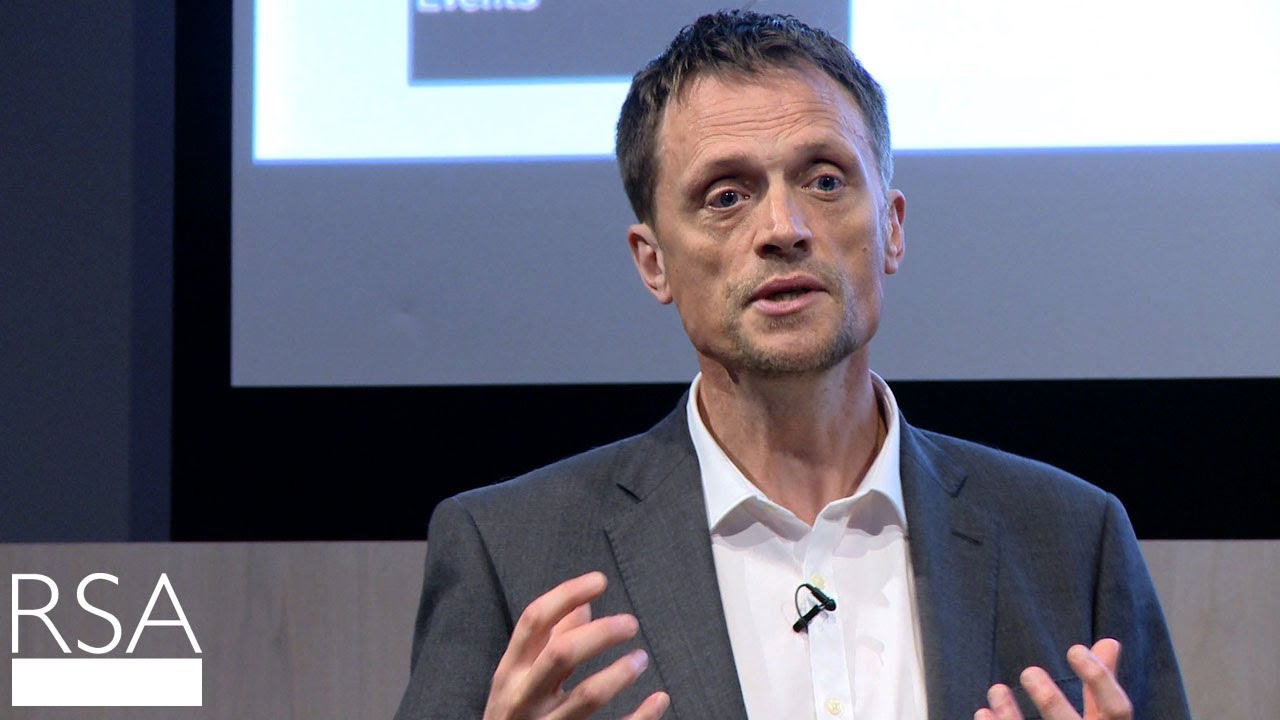 The review was commissioned by the Prime Minister last autumn, and considered how employment practices need to change to keep pace with modern business models. Taylor has considered the implications of new forms of work, driven by digital platforms, for employee rights and responsibilities, employer freedoms and obligations, and employment regulations.

Good communication – whether it's about brand definition and growth, behavioural change in large organisations or the community impact they can deliver – often comes down to internal conversations. Spring spends time at the start of projects listening to staff and other stakeholders, understanding their needs and motivations, what makes them proud and what frustrates them. We'll often be working with people at extreme ends of the pay scale, with very different work contracts.

The desire that unites them always is to have a shared sense of purpose, feel fulfilled in their work, be given opportunities to progress and recognition from their colleagues. Often, when Spring starts to work with a new client, the 'purpose' of work has become ill-defined, basic human interactions swamped in process, corporate layers and paperwork, and the basic reason people have entered an industry has become clouded with time. Quality of employees' output will often be impacted by lack of clarity from senior levels about expectations, creating a vicious cycle.

Our brief will be to restore clarity of purpose and bring it to life, in and outside those organisations through a wide variety of actions and channels. Taylor's report provide valuable insight about what government and business can do together to restore people's pride in their work. Good work matters – for the people who do it, the people who employ them and the beneficiaries of that work.

The seven action points that fall from the report are as follows:

1. Our national strategy for work – the British way – should be explicitly directed toward the goal of good work for all, recognising that good work and plentiful work can and should go together. Good work is something for which Government needs to be held accountable but for which we all need to take responsibility.

a) The same basic principles should apply to all forms of employment in the British economy – there should be a fair balance of rights and responsibilities, everyone should have a baseline of protection and there should be routes to enable progression at work.

b) Over the long term, in the interests of innovation, fair competition and sound public finances we need to make the taxation of labour more consistent across employment forms while at the same time improving the rights and entitlements of self-employed people.

c) Technological change will impact work and types of employment and we need to be able to adapt, but technology can also offer new opportunities for smarter regulation, more flexible entitlements and new ways for people to organise

2. Platform based working offers welcome opportunities for genuine two way flexibility and can provide opportunities for those who may not be able to work in more conventional ways. These should be protected while ensuring fairness for those who work through these platforms and those who compete with them. Worker (or 'Dependent Contractor' as we suggest renaming it) status should be maintained but we should be clearer about how to distinguish workers from those who are legitimately self-employed

3. The law and the way it is promulgated and enforced should help firms make the right choices and individuals to know and exercise their rights. Although there are some things that can be done to improve working practices for employees, the 'employment wedge' (the additional, largely non- wage, costs associated with taking someone on as an employee) is already high and we should avoid increasing it further. 'Dependent contractors' are the group most likely to suffer from unfair one- sided flexibility and therefore we need to provide additional protections for this group and stronger incentives for firms to treat them fairly.

4. The best way to achieve better work is not national regulation but responsible corporate governance, good management and strong employment relations within the organisation, which is why it is important that companies are seen to take good work seriously and are open about their practices and that all workers are able to be engaged and heard.

5. It is vital to individuals and the health of our economy that everyone feels they have realistically attainable ways to strengthen their future work prospects and that they can, from the beginning to the end of their working life, record and enhance the capabilities developed in formal and informal learning and in on the job and off the job activities.

6. The shape and content of work and individual health and well-being are strongly related. For the benefit for firms, workers and the public interest we need to develop a more proactive approach to workplace health.

7. The National Living Wage is a powerful tool to raise the financial base line of low paid workers. It needs to be accompanied by sectoral strategies engaging employers, employees and stakeholders to ensure that people – particularly in low paid sectors – are not stuck at the living wage minimum or facing insecurity but can progress in their current and future work.

My fortnight as a Springer
Maddy has just finished the second year of her degree in Graphic Design at Norwich University of the Arts. In June, she spent two weeks interning in our studio and got her teeth into her own design project.
"The brief was to design and create a beautifully crafted range of products to promote Southwold and Spring, with Southwold's tourists being the main audience for the products. The brief began with the idea of 'Southwold in Type.' Using type found around Southwold, I created a hand-crafted typeface drawn from letters found anywhere from shops on the high street to beach huts and The Pier. Once the typeface was drawn and then created digitally, I designed a range of postcards using the letters with Southwold and beach specific words on them e.g. A for Adnams.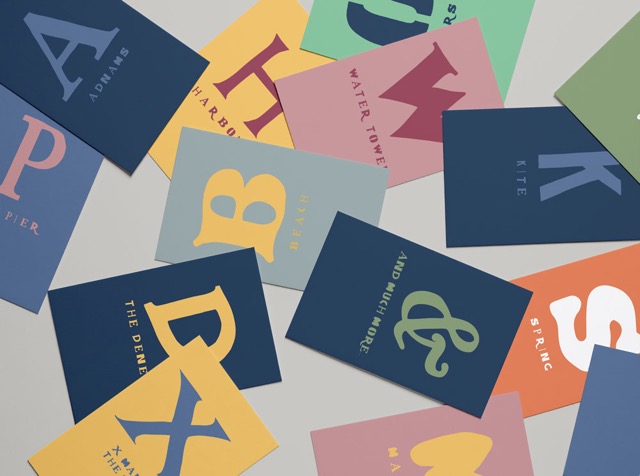 I then considered how the designs could be used across a range of products such as tote bags, towels, mugs, t-shirts and posters and become a special gift that tourists can buy and take home with them to remind them of their time in Southwold.
After getting this project to a point that I was happy with and felt fulfilled the brief, I decided to pursue an idea I had had prior to my internship at Spring. Iconic to the town, the row of beach huts lining the promenade is something that any local or visitor would recognise instantly. And, with each of Southwold's beach huts being ever so slightly different, I thought that it would be interesting to represent them in their simplest, most graphic form.
I took photos of lots of the beach huts in Southwold and then chose a select few to illustrate, using a very minimal and geometric style. Similarly to the previous project, I also applied my designs to merchandise such as bags, t-shirts, posters, stamps and stationery. I also began to develop how this could be expanded into a game for children in which they have to find the beach huts based on the illustrations.
I thoroughly enjoyed working on this brief during the two weeks I spent at Spring and have learnt a huge amount from the experience. Being given my own brief to work on over my time there, and feedback from their team throughout, allowed me to develop an idea from the initial stages through to a final design whilst also learning a lot about daily life in a design studio.
Thank you very much to the Springers for having me!"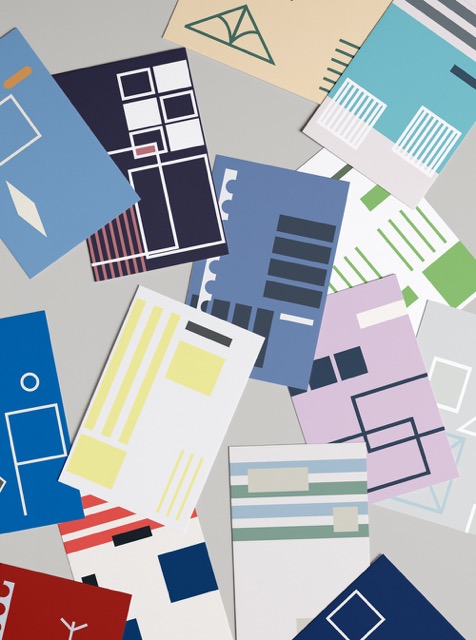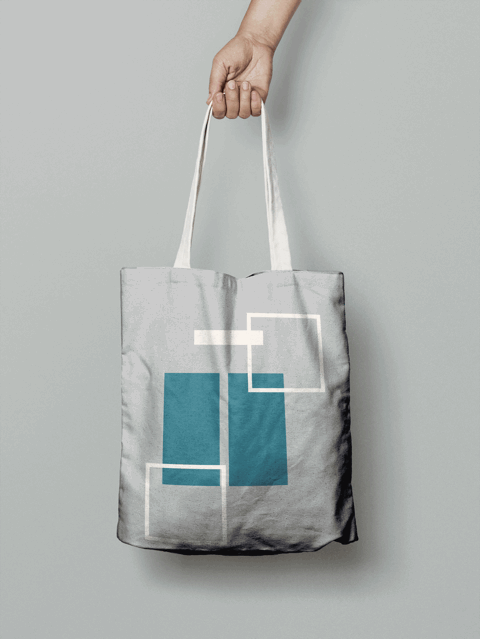 Erika gives key-note speech at Suffolk Chamber AGM
At Suffolk Chamber's AGM last week, Spring's co-founder Erika spoke on the rise of people power, the shockwaves this has caused in politics, and how businesses can harness this for growth.
She shared some thoughts and tips on how to shape a brand's communications strategy for real impact in our rapidly changing world, updates on social media use, insights to how to make people change their behaviour, and a rundown on how Spring works to really get under the skin of the communities our clients want to connect with. 

She concluded the speech with nine main pieces of advice: 

Spring delivers new brand to Jordon Freight
Since last autumn, we've been working with Felixstowe-based European haulage business Jordon Freight to create a new brand to support their ambitious plans for further growth. Recently, their brand relaunch was completed as their new website went live.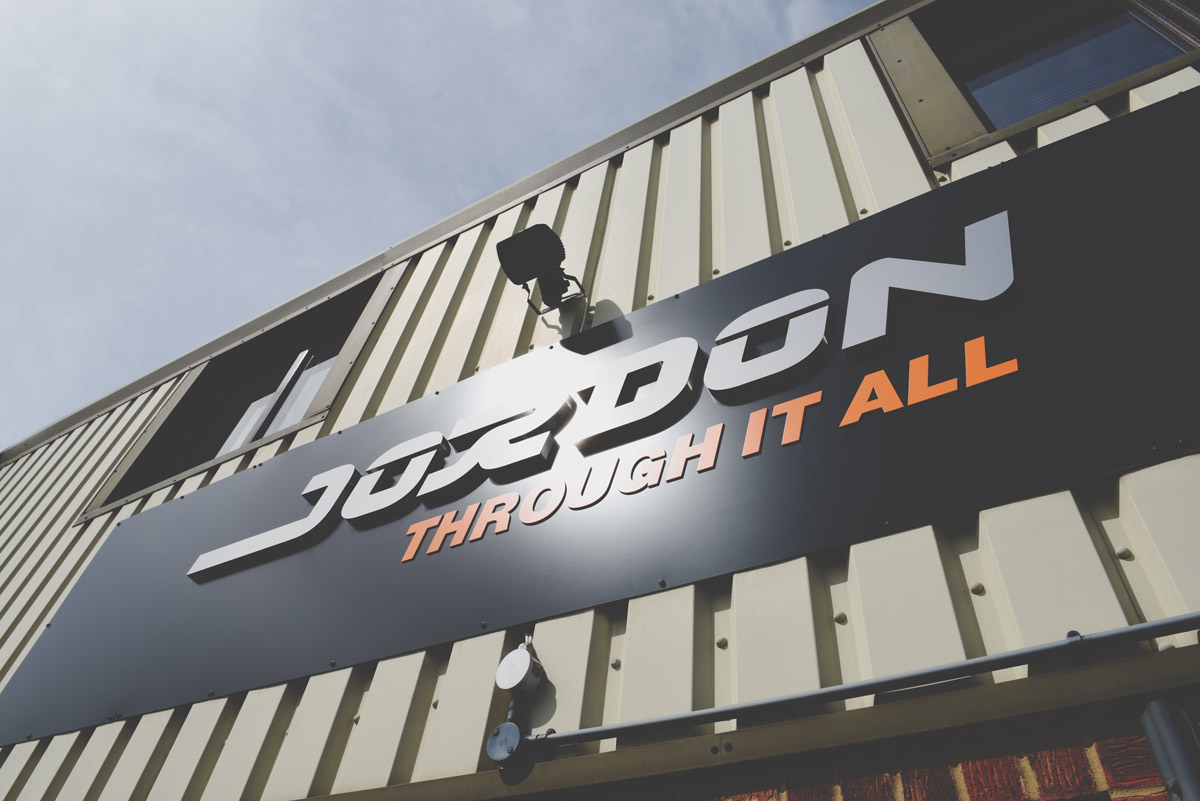 Jordon approached us back in September last year, looking for something that would set them apart from their competitors. We started by getting to know them, their market and the opportunities they had, better. Part of this saw us carry out a customer survey, in which we talked to a selection of Jordon's clients and discussed what they thought set them apart from other companies offering similar services. We also met the whole Jordon team for a project launch workshop where we identified their approach and motivations.
What came out of this phase was a clear insight: the fact that nothing stands in Jordon's way when it comes to meeting their clients' promises. Their determination and resilience means that the level of customer service they deliver is second to none, and this was something we knew we had to communicate through the new brand.
We came up with a positioning statement that represents their gritty dedication to going over and above to deliver: 'through it all.' In terms of the appearance of the brand, we had realised during the research process that people recognised the Jordon logo and it had real equity. Therefore instead of starting from scratch, we made the decision to evolve the logo into something more robust and evocative, with a chrome and orange colour palette.
The next stage was to think about how the brand would be applied, and through this process we decided on a brochure, stationery, merchandise and crucially, a new website. Every brand asset has to underpin Jordon's rugged functionality. Their new site is fully responsive and highly intuitive for visitors, with the main aim of making it as easy as possible for people to navigate and for Jordon's sales team to provide them with quotes. A video banner on the homepage emphasises the 'Through it all' message, with 'dashcam'-style footage of a lorry battling through extreme weather conditions.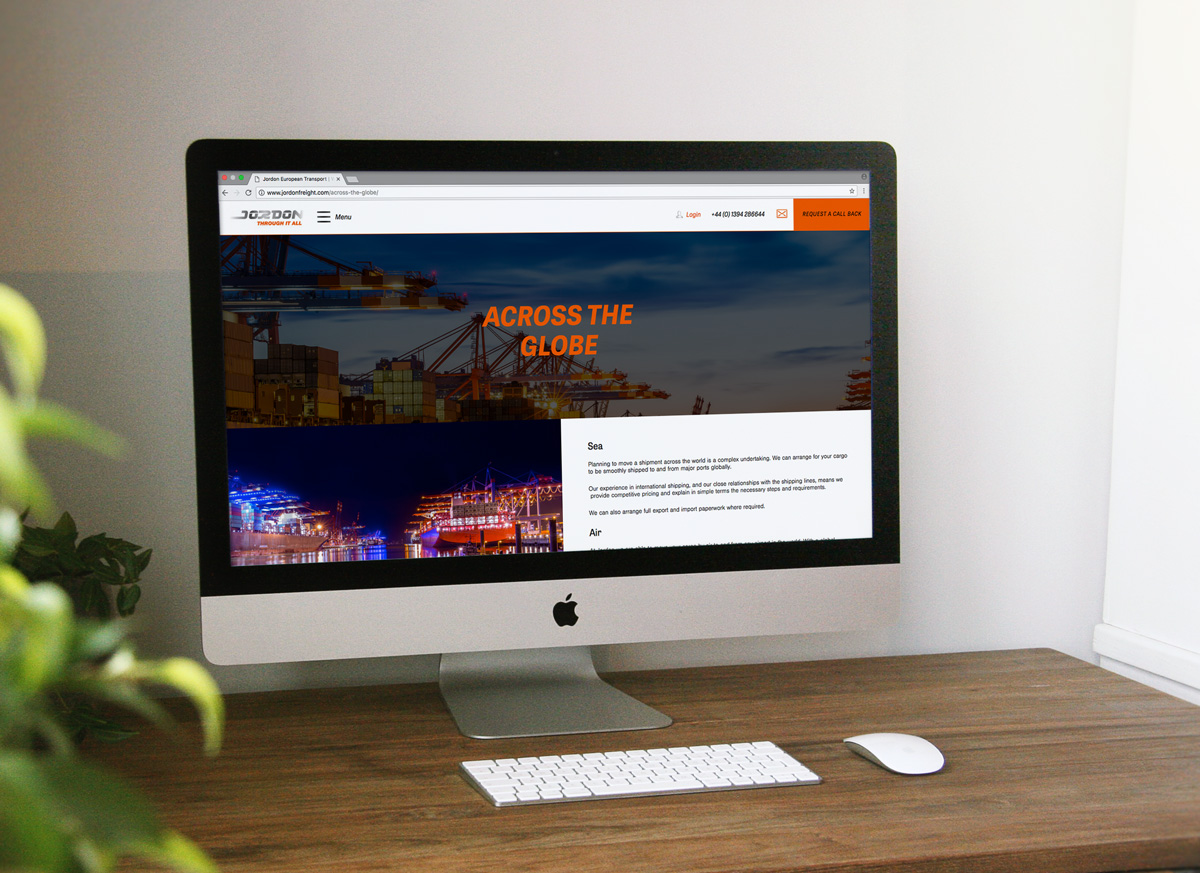 Another phase of the project has been refitting Jordon's offices. Naturally, as the environment in which Jordon's customer services team operate it's an important part of the Jordon brand, so it was important for the new look to be embedded in this space.

With the Jordon team such a key part of the service they offer, it was also important that the brand really resonate and mean something to them. They'd been involved in the journey from brief to completion and we drew everyone together to present the process, insight, design solution and applications – the team has really taken the new branding to their hearts, even wearing corporate orange to external events to support the brand!

The team at Jordon were a pleasure to work with and we're really pleased with how the work has come out. See their new look here: http://www.jordonfreight.com/

New website for Dance CATs
Building on our fantastic work with DanceEast, Spring recently completed a brand new website for the National Centres in Advance Training in Dance (CATs).

The CAT scheme, funded by the Department for Education, provides gifted young dancers the opportunity to benefit from world-class professional training without having to relocate. The network covers the entire country, so students never have to travel too far to attend.

When Spring started working with the network, they were all unanimously unimpressed with their existing website. They felt it was outdated, unambitious, and most alarmingly, uninspiring. Spring was tasked with creating an exciting, easily navigable site that would communicate the quality of the CATs, and most importantly, allow current students to share their experiences of life as a CAT.

Lynton, the designer who worked on the project said: "We were pretty much given free reign on this project, there were no limitations other than to 'make it inspirational', if you can call that a limitation! Fortunately the CAT network has some incredible photography, so this wasn't a challenge. The new design uses a fully responsive, contemporary layout and colour scheme – it's purposefully minimalist, allowing the photography to shine through, but still leaves the important information readily available. A subtle use of animation and parallax scrolling add another level to the user experience without affecting the usability of the site."

We're proud to give the National Dance CATs a website that represents their world-class, professional offer, and we can't wait to see how it helps them advocate for future projects, as well as recruit the country's finest young dancers.

Take a look at the website here: https://www.nationaldancecats.co.uk

Co-op portrait champions region's female food entrepreneurs
The East of England Co-op has marked the tenth anniversary of its Sourced Locally initiative with a portrait celebrating the women at the head of the East's food and drink industry, including two of our fantastic clients.
With around 30% of the food and drink manufacturing workforce in the UK being female, it's important for the region to champion its female producers, and that's exactly what the East of England Co-op's new portrait will serve to do.

The 10 women in the portrait are all entrepreneurs spearheading the region's food and drink industry, and include two of Spring's clients: Fiona Brice, joint director at Havensfield Eggs and Hannah Marriage, director at Marriage's Flour, alongside others including Emily French, business partner at Foxes Farm and Sarah Savage, founder and director of Essence Foods.

Created as part of Sourced Locally Fortnight, which takes place annually to highlight to customers just how important local products are, the portrait was organised to mark 10 years of success for the Sourced Locally scheme. It was shot by renowned photographer Jenny Lewis, who went into the project in the hope of inspiring a new generation of businesswomen in the region.

Launched in 2007 following the discovery that South American asparagus was being sold in stores mere miles away from fields full of the British crop, the Sourced Locally scheme has led to a £57 million boost for the region's economy.

The East of England Co-op's Sourced Locally Fortnight runs from 5th-18th June, and will see participating stores across the region welcome local suppliers to talk to customers about their produce and encourage them buy locally produced items.

Gene joins Spring
We are absolutely delighted to welcome new Account Director Gene Chui to the Spring team.
Formerly Account Director at global communications agency Ketchum in London, Gene has worked on campaigns including Nissan's sports sponsorship programmes and Proctor & Gamble grooming.  He brings with him invaluable strategic communications experience in leading integrated teams on PR, events, digital and design.

His previous work has been across a wide variety of sectors, including food and drink, sports, fashion, healthcare, beauty, entertainment, retail and technology; developing brand strategies and creative ideas, delivering campaigns, event production and social media strategy.

He also finds the time to combine running marathons with being a real foodie.

A Norfolk local, Gene grew up in Great Yarmouth and attended Norwich School before heading to the London College of Fashion.

It's great to have him back in the East!

Magic, 'pills' and behavioural science: an evening with Campaign Underground
Last week I was given the opportunity to go to Campaign Underground's launch event, 'Applied Captivation', which was put on in association with behavioural planning agency Total Media.
I didn't know much before the event other than the names of the speakers: Christopher Macleod, Transport for London, Ocado's Thomas Thomaidis and 'Decoded' author Phil Barden, and that throughout the afternoon there would be a series of 'experiments' to test my sense of rationality. Sounds good so far, right?
I arrived outside Islington Metal Works and was ushered into a dark room, where I was confronted by a pirate who asked me to choose a coloured pill, black or red. I picked my black pill and the instructions read: 'pour the contents onto your tongue and let it dissolve. Wait five minutes and then find one of our dealers to finish the experience'. So, for five minutes, I wandered around a courtyard with the rest of the guests where there was a tattoo artist, a magician/illusionist, the pirate, and a man making lollies and dispensing flavoured perfumes and colognes. There were also a variety of food tables with marshmallows, popcorn and a bar serving some interestingly-named cocktails. Before I had a chance to take part in anything, a 'dealer' approached me and injected a liquid into my mouth. Depending on which pill I'd picked at the beginning it would taste sweet or sour.
After 10 minutes of being enthralled by magic tricks and watching people getting tattoos, we were asked to take a seat so the talks could begin. The theme of the event was how can we use behavioural science in marketing, and each speaker had his or her own way of approaching the subject depending on the industry they worked in. There were some fascinating examples of how the topic had been approached by various businesses and the results they had seen from implementing these techniques. If, like me, you're interested in the psychology of why we make decisions then there are a few books that should be on your list: Nudge by Cass R Sunstein; Thinking, Fast and Slow by Daniel Kahneman and of course Decoded by Phil Barden.
To wrap up the event, a comedian and illusionist performed a routine where he sent a member of the audience to Australia. I may have had a couple of the strange cocktails by this point so I'm fuzzy on the details, but there were definitely cork-string hats.
From start to end the evening was engaging, captivating and above all, educational. I'm sure this type of event can become dreary, but Campaign put a different spin on it and it was brilliant. The next one's in September, so get over to the website and reserve your place now, you won't be disappointed!
http://www.campaignlive.co.uk/events/underground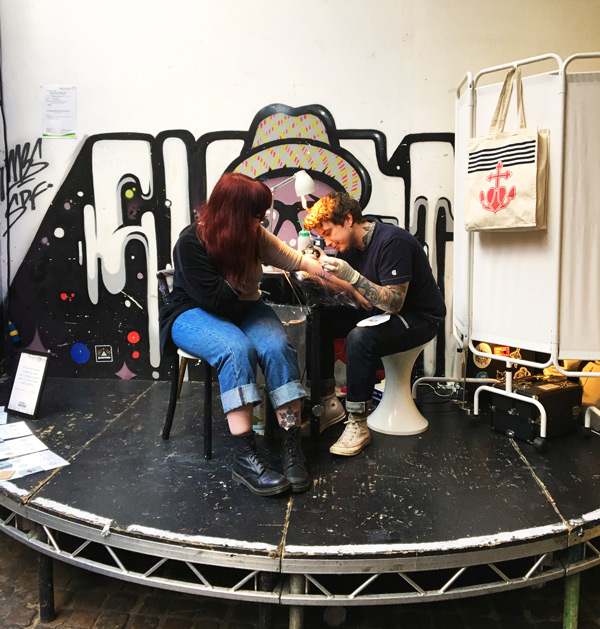 Design Week vox pop on government and design
Design Week asked Erika "What would you like the government to do for the creative industry?".
Other respondees included Sarah Weir, CEO of the Design Council, Dids McDonald, co-founder of ACID and the DBA's CEO, Deborah Dawton.The question was posed in the light of the snap election announced by PM Theresa May for the 9th June.

Having contributed to the Creative Industries Federation's General Election Manifesto through her seat on the DBA board, and as a former director of New Anglia Local Enterprise, Erika was delighted to respond.

Spring sets out to deliver change and reports 1:35 ROI for clients, with significant impact on people's lives and regional development in the east of England; and her focus is on bringing the skills of a business like Spring to the process of policy making, where she believes they can have sizeable positive impact.

You can see her answer in the Design Week article and following:

"Government must continue to invite us to the top table, and enable us to contribute to policy in all areas, not just our own industry. Not just in Westminster, but also other regions through devolved government and Local Enterprise Partnerships (LEPs).

As an industry, we need to make that happen ourselves. We'll do it by developing clarity about the value we add and explaining it in terms that resonate with politicians and business leaders. Design businesses must demonstrate their ability to get to the heart of issues, understand people's motivations, define routes to growth, deliver behavioural change, fuel reputation and maximise profit.

This is my often-trod soapbox. Design has got to learn to speak up for itself and clarify why it's an indispensable corporate and social asset. That's how we'll get that top table influence."

Gainsborough's House launches first public exhibition
With support from Spring, Gainsborough's House in Sudbury will hold its very first public exhibition this Wednesday to showcase its transformational £8.5m redevelopment.
The "Reviving an Artist's Birthplace" project seeks to attract visitors not only from East Anglia and London, but from across England and abroad. Nowhere else in the world will such a wide collection of Gainsborough's art, and works by those he inspired, be seen in a single setting.

The project will see the renovation and redisplay of the historic house to interpret, entertain and inspire about the artist, his family and social context. A new, landmark three-storey structure will replace an empty local authority building on a brownfield site next to the house. It will provide spaces for exhibitions, displays and education with four new galleries – a showcase Gainsborough gallery, a landscape studio with panoramic views over Sudbury, a community gallery and a temporary exhibition gallery/performance space.

The project has received high profile attention including from Anna Wintour and Griff Rhys Jones and was commended by the Prime Minister, Theresa May, in her speech on Heritage Lottery Fund earmarking to Parliament in October 2016. Thanks to money raised by National Lottery players, it has currently secured initial support* for a £4.5 million grant from the Heritage Lottery Fund (HLF) and a further £2 million from private donors. A shortfall of £2 million needs to be secured within the next year to keep the project on target. If Gainsborough's House can secure these funds, building work will begin in autumn 2018 and will open to the public in 2021.

The public consultation on 3rd May, which is being managed by Spring, will be the first chance for the local community to meet the recently-announced architects for the project, ZMMA.

ZMMA's work has included transformational projects at the Watts Gallery, Heath Robinson Museum and the European Galleries of the V&A, which won the Art Fund Museum of the Year in 2016.

Tomorrow's exhibition will be the first chance for the public to see initial visuals and a to-scale architect's model, to handle the locally sourced raw brick, flint and silk materials to be used in the build and to see a materials miles map.

It will also be the first and welcomed chance for the public to share their thoughts, comments and ideas on the project.  At the exhibition, the public will also be able to gain a better understanding of the many and varied opportunities that this redevelopment will offer Sudbury and the surrounding area, for example in education, apprenticeships and the community gallery.

The exhibition will take place on Wednesday 3rd May 2017 between 3.30pm and 7.30pm at St Peter's Church, Market Hill, Sudbury CO10 2EH.

Calling all filmmakers!
We have recently designed and built an inviting new website for Suffolk's Bentwaters Parks, the UK's most diverse film and TV production space.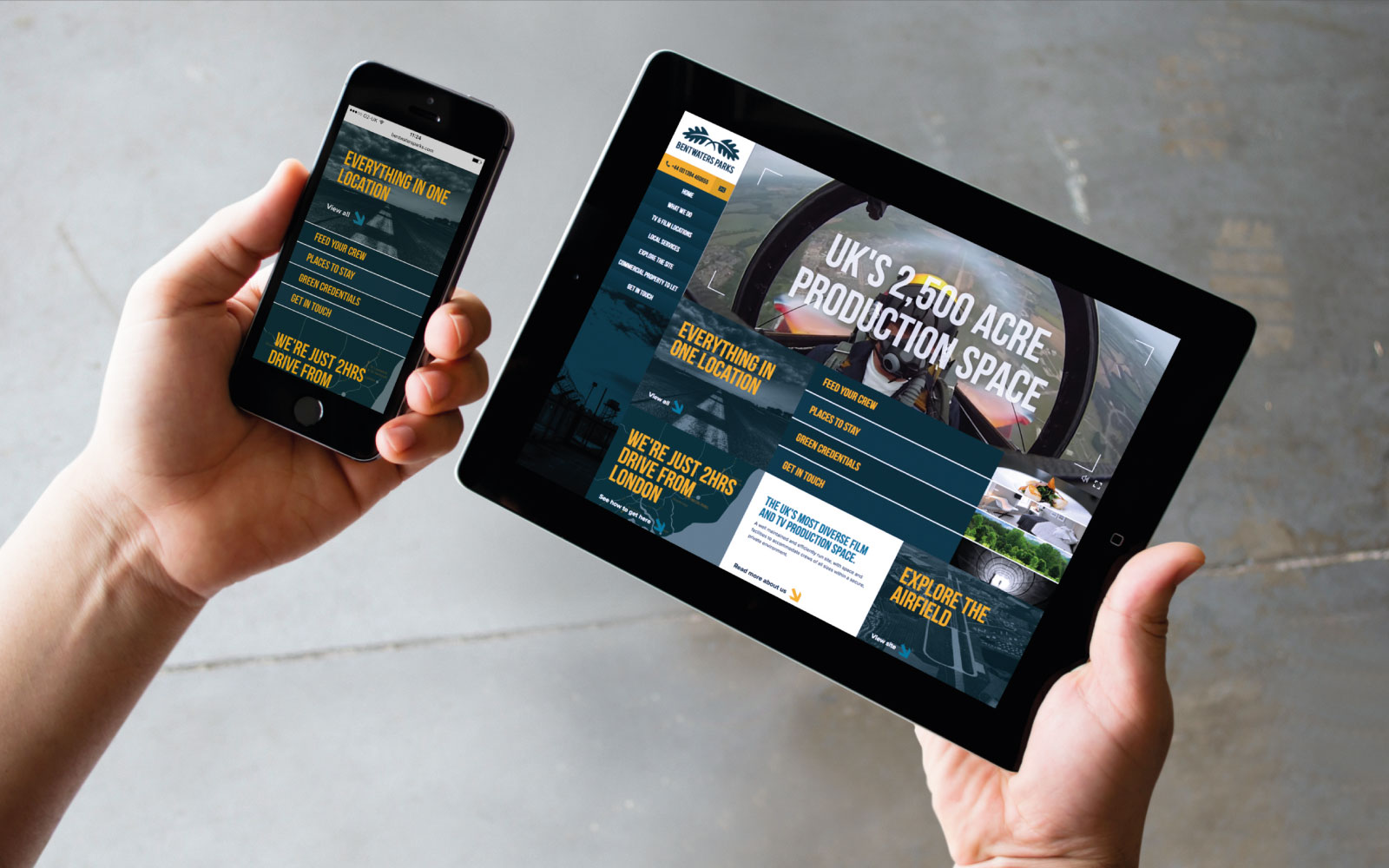 This 2,500-acre USAF cold war airfield is a unique and diverse collection of ex-military buildings and landscapes with a mile-long runway.  It has already featured in  high-profile productions like The Detectorists and the Fast and the Furious, and is a well maintained and efficiently-run site.  It offers a superb location for film and television, just two hours from London.
Our brief was to create a new website to catch the eye of the film industry, bringing Bentwaters to their attention as a well-situated, everything-in-one-location production space.
We refreshed the brand palette and created atmospheric imagery with the use of dark blue duotones, offset with yellow type and highlights. The use of yellow and cut through angles is a nod to the runway's chevrons and airbase road markings.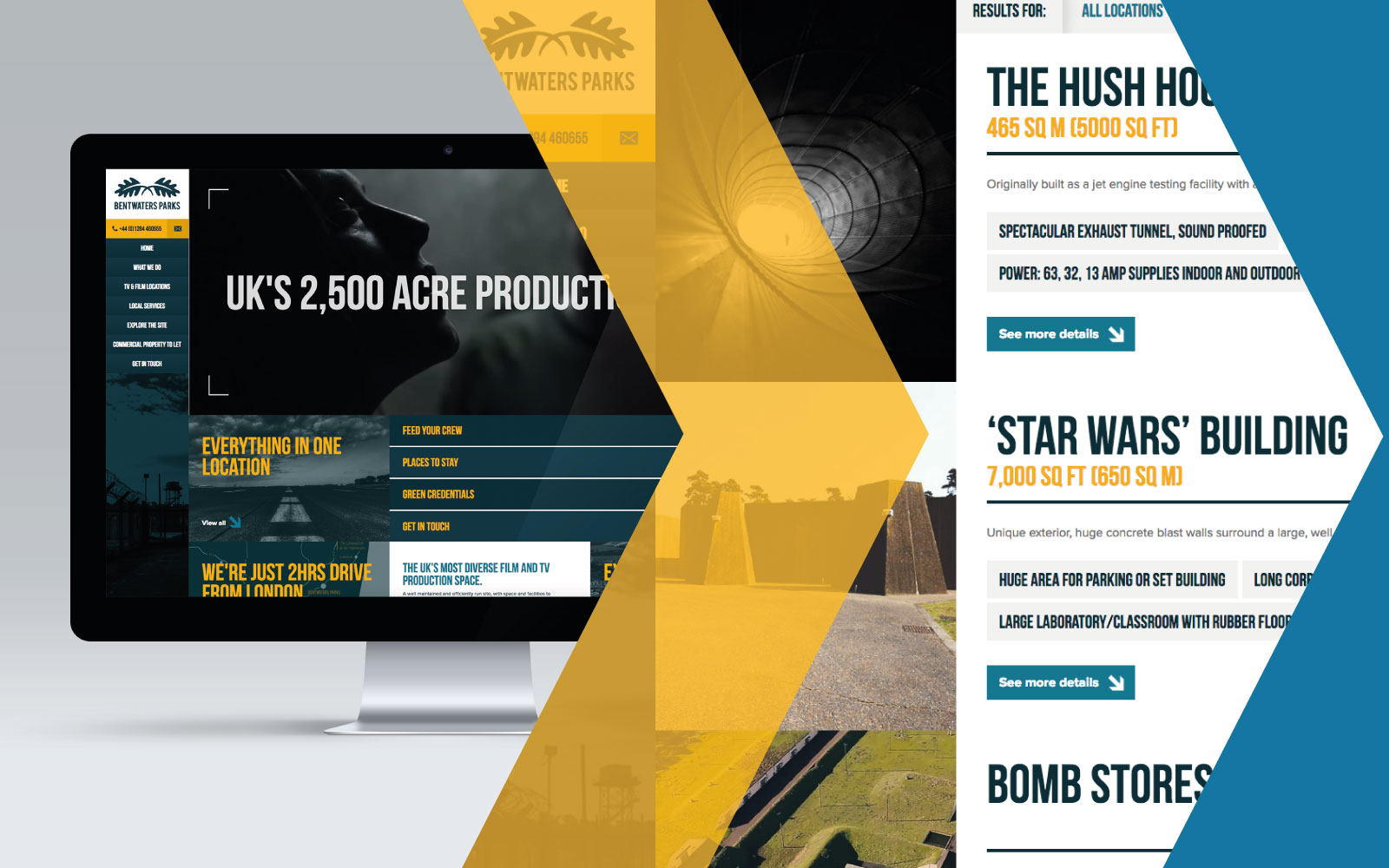 As you'd expect for this audience, video is absolutely integral, and a showreel of past productions dominates the home page. Building fly-throughs are also shown on the location pages.

The site responds effectively and we have replaced video with photography on mobile, so busy scouts have the fastest possible experience on the go, finding all the information they need as quickly as possible.

Promoting Suffolk as a film location has certainly been in the spotlight in recent months with the launch, last autumn, of the county's official film office, Screen Suffolk. The new organisation offers a 'one-stop' film service with the aim of raising the region's profile and delivery as a location, and ultimately making Suffolk the most film-friendly county in the UK.

We hope that Bentwaters Parks' new website helps to brings even more great filmmakers to Suffolk!  Why not take a look for yourself now?

Art trail dedicated to two of Britain's most celebrated artists launched
The landscapes of Suffolk are immortalised by two of the county's most celebrated residents, Thomas Gainsborough and John Constable. And to further commemorate the works of both artists, Gainsborough's House in Sudbury has launched a new trail highlighting some significant sites across the county, a project to which Spring was excited to be able to contribute.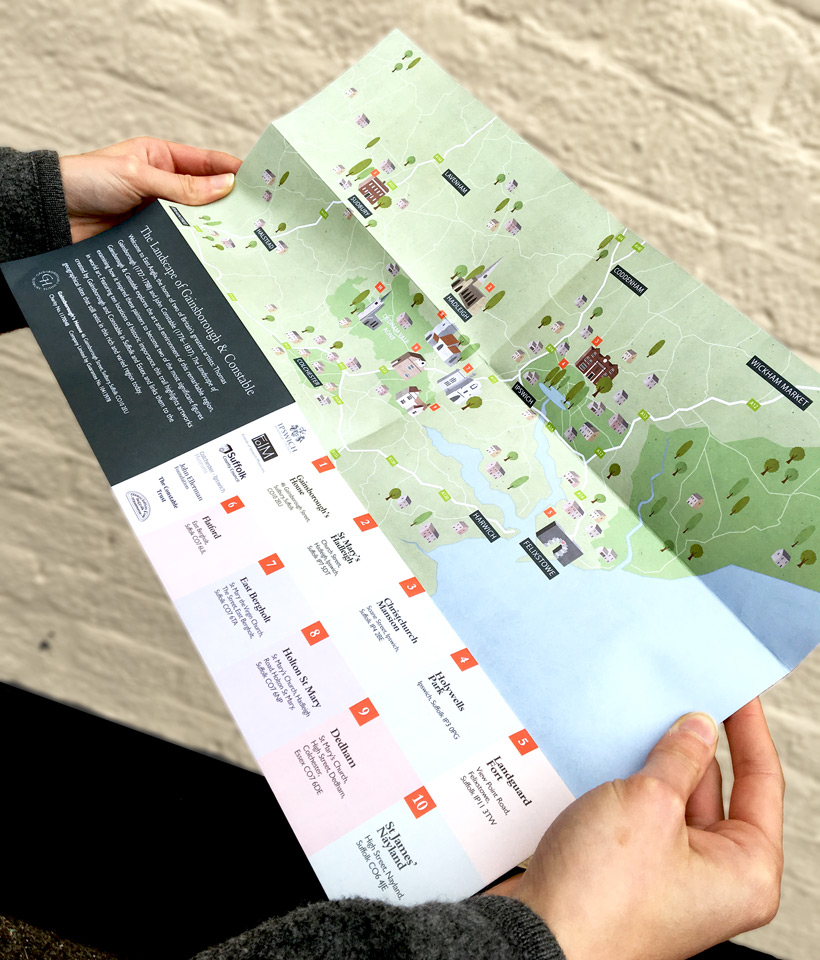 The Landscapes of Gainsborough and Constable is a brand-new trail taking in ten places between Sudbury and Felixstowe. Alongside information about how to visit the sites, the trail includes facts about the paintings that feature each place, as well as giving insight into the lives of Gainsborough and Constable.

Following 2016's Gainsborough's Sudbury project, we were delighted to be able to expand the concept with Gainsborough's House. This time, the project consisted of design of the new leaflet as well as a series of exhibition panels which will bring the trail to life at each of the ten locations.

Lynton, lead designer on the project, said: "This was a really great project to work on. It gave us an opportunity to develop the illustration and brand style that we created in last year's work for Gainsborough's House, and move it forward into a wider geographical area."

Find a copy of the leaflet at Gainsborough's House or Christchurch Mansion, and discover a new appreciation of this well-documented landscape.

Maddy and Lynton's half marathon
When I first started at Spring, one of the first things I noticed was how active all the other Springers are.
There's Glen, who cycles into work every day without fail, rain or shine (and in 2016, covered an incredible 10,000 miles), Nikki HG, who is always in either running or cycling kit (read about one of her amazing cycling achievements here), Lynton and George, who gave up many lunch times – and braved freezing seafront winds – to train for the Adnams 10k in November and Erika who ran 100 miles last September and will be running 120 miles in May.
This, combined with the fact that almost everyone in the office makes use of Spring's complimentary 'gym Fridays', made me feel a little bit inadequate, and extremely unfit. So in January, inspired by my colleagues' numerous sporting achievements over the previous few months, I decided to sign up for the Norwich Half Marathon in April.
I was soon joined by Lynton, and we found a 12-week training plan that would take us right up to the date of the race itself. We were doing so well! Then we actually started training. After a good start, it became increasingly difficult to motivate ourselves, especially when the weather was awful and it got dark at 3pm.
7th April rolled around extremely quickly, and in an unfortunate turn of events it was the hottest day of the year so far. It was a hard race (not that my pace could be described as racing in any way) but it was a great atmosphere, with lots of supporters around the course – some who had even dragged their garden hoses up to the road to give the runners some respite from the heat! And to make the moment of crossing the finish line even better, fellow Springer James – who sounded like he'd had a much more enjoyable morning – was there to welcome us, after taking many unflattering shots of us in the final, painful stages of the run, and to give us a final Spring in our step.
I don't think I'll be signing up for any more running challenges anytime soon, but Lynton has mentioned doing a marathon next year, so watch this space…