H2OMG! is a winner in 2019 Design Effectiveness Awards
The Design Business Association has just announced the shortlist of winners for the 2019 Design Effectiveness Awards – and we're delighted to say that Spring and Anglian Water are winners with our H2OMG! water fair engagement project.
The Awards

are renowned across the world for the quality and strength of evidence required to support the design effectiveness of submitted projects. The judging process is rigorous, and the judges some of the world's most highly-esteemed design professionals from organisations including Coca-Cola, Lego, Visa and Adidas.

We're looking forward to the ceremony in June, at which we discover whether we're in with a Bronze, Silver or Gold.

Spring brings brand specialist Simon Middleton onto team
Spring has added Simon Middleton's talents to enhance the agency's branding offer for new and existing clients.
As author of three books on branding and marketing* and with a fourth in the pipeline, Simon's specialist focus on brand complements the agency's existing work.

Formerly Creative and Brand Director of Fox Murphy, Simon travels extensively to consult and speak on brand across the world. In the past five years he has also created luxury men's outdoor clothing brand, Shackleton, and made-in-Britain casualwear brand Blackshore, as well as guiding brand strategy for the Harris Tweed Authority.

Spring's co-founder Erika Clegg says of the new Springer: "Simon is a superb addition to our team. Whilst brand positioning has always been the bedrock of any projects we deliver, to be able to offer brand strategy at such a senior level will really help us to create added value for our clients."

"Just because our work encourages clients to be bold doesn't mean to say we want them to take risks. The world's changing fast, and with increasing competition both for market share and attention, businesses absolutely have to have clear brand purpose, positioning and communications.

"Simon's unswerving dedication to brand, from strategic and academic angles to practical, hands-on delivery, allows our clients access to world class brand leadership."

Simon Middleton comments: "It's exciting to be working alongside such a dynamic and creative agency that is so keen to help its clients focus on brand as a fundamental business driver. The collaboration gives us the opportunity to work with organisations who really want to embrace strategic change."

Spring will be delivering a series of brand workshops for board directors of companies across the East of England over the next few months: to register your interest, please email erika@agencyforchange.co.uk

*  Build a Brand in 30 days, pub. Capstone 2010
What You Need To Know About Marketing, pub. Capstone 2011
Brand New You, pub. Hay House 2012

Springers tackle loneliness in 2019
Spring does things a little bit differently. We believe in giving back, and like to use our skills and Ethos to take on big challenges for clients and for the communities around us. That's why during 2019 we're going to be taking a look at loneliness, and tackling it head-on.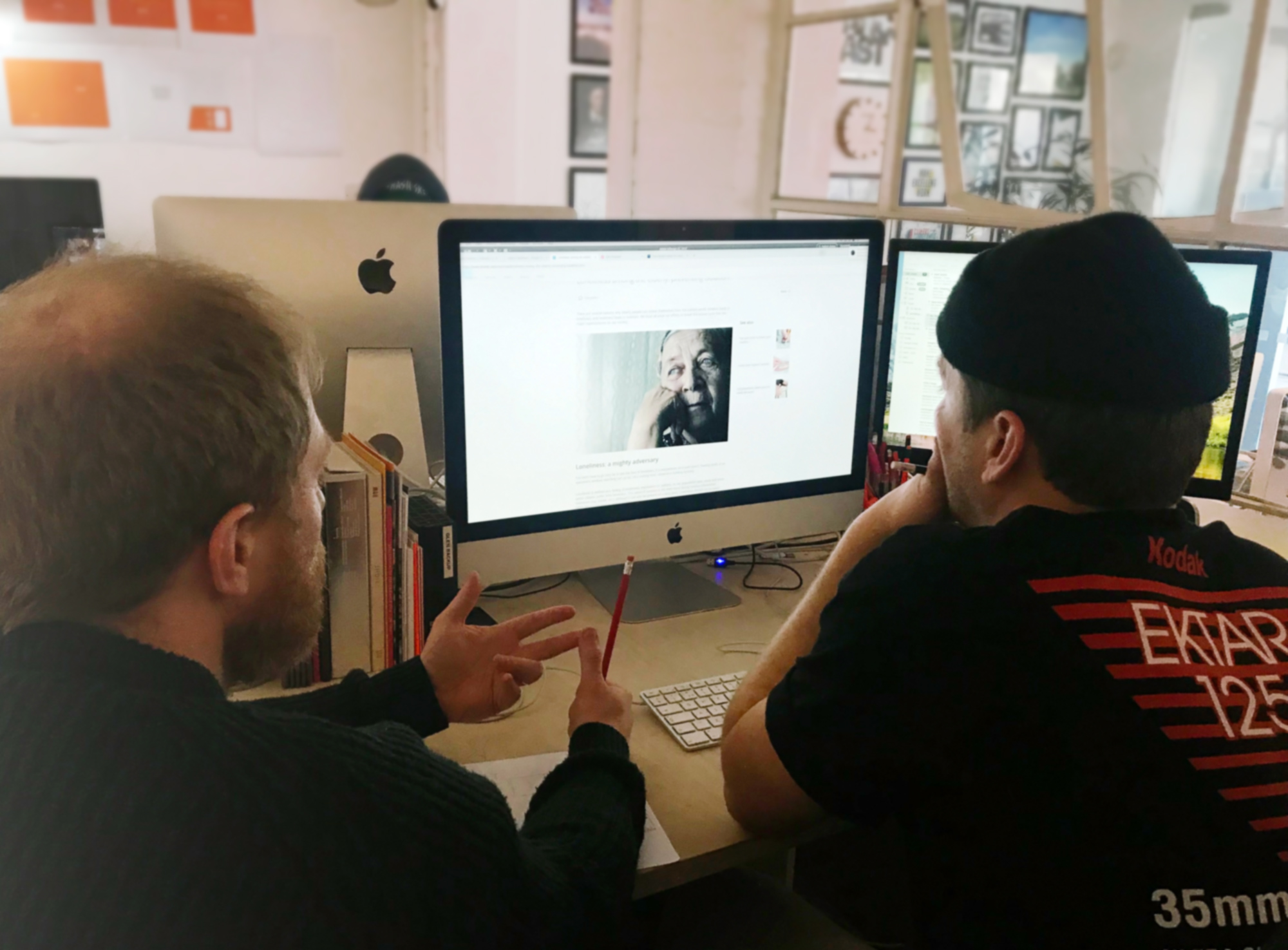 With nine million people in the UK said to be lonely, it's a serious issue which cannot be ignored. One which has been proven to increase the likelihood of mortality by 26% and to heighten the chance of heart disease, stroke and high blood pressure, as well as cognitive decline, dementia and depression.

And, although the elderly may be the first group of people that springs to mind who are likely to experience loneliness, the issue is far reaching. Loneliness impacts new parents and those new to places, urban dwellers, the rurally isolated, children and young people, the homeless and even people within their own workplaces.

We know it's a big task and there's no one rule fits all approach: so we've chosen four demographics we think we can help, split into four teams and over the next six weeks we'll be finding out more, revealing insights and hatching a plan for each of our chosen groups. Over the course of the year we'll roll out those plans with ambitious objectives to change some lives for the better.

As Springers it's something we believe we can help with, compassionately, creatively, differently. We hope you'll be following our progress along the way.

British Racing School website is out of the gate
After several weeks in production, this week saw the launch of our new website for The British Racing School.
Based in Newmarket, the school is the premier training centre in the country for the horseracing industry. It runs a wide range of courses that encompass everything from half-day bitesize training sessions to Management Courses aimed at Trainers who are at the top of their field. They have a fantastic reputation for introducing young people into the industry through high-quality apprenticeships and work with school children, and have just been rated 'Outstanding' by Ofsted.
Our brief was to create a site that looked good and appealed to their target audience, but was also easily navigable. One of the problems with their old site was that people felt it was too hard to find what they were looking for, so our design resolved this issue.
We completely revamped the courses section – one of the most important sections of the site – so it was easily filterable, and all the relevant information was in one place. And of course, the whole site has been designed with mobile in mind, reflecting how the majority of visitors will use it.
To see the new site in action, visit www.brs.org.uk

Consultation – Done right, this runs deep
When there's a sizeable build project in the offing, a corporate strategy to be written or a programme of change that's going to impact people, consultation is not just a legal obligation – it is morally essential.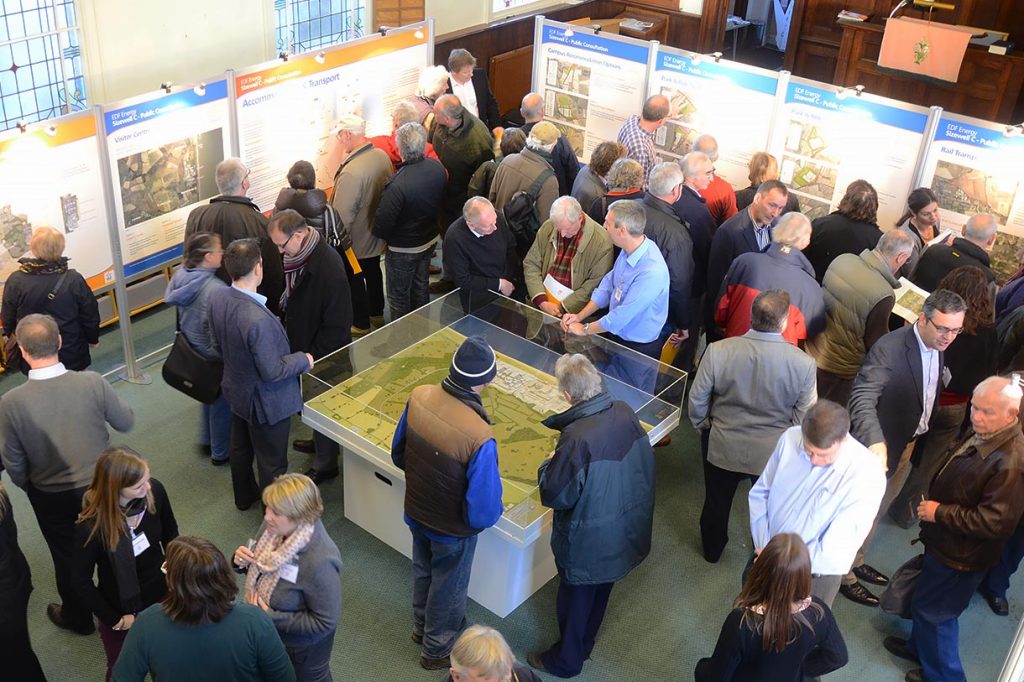 Spring's view is that, as consultation providers, we are the bridge between impacted community and provider, and our job is to make sure that the traffic of information, understanding and response flows freely both ways. A consultation that's designed to tick the box simply isn't good enough; people can sniff out a fobbing off a mile away, and understandably get annoyed.

So what makes a good and worthwhile community consultation? The answer is empathy – being able to put yourself in someone else's shoes to understand how they will feel, and to what extent the proposed project will impact their lives. Engaging with people and their communities, getting under the skin of local issues and discovering people's wishes and desires informs a comprehensive and worthwhile consultation. Who do people listen to? Who do they talk to? Where do they get together? and where do they share time? These are the questions that need to be asked from the outset.

This involves going beyond the official bodies and councillors, you need to be talking and listening to the real community makers, the people on the ground who, through character and connections, are well informed and influential in their group.

And a consultation has to be viewed as the start of the conversation; as in any relationship people want updates and feedback, high quality ongoing engagement that respects their involvement. They want to know they've been listened to, and that their views are treated with respect. It is no surprise to see the mistrust that arises when organisations dismiss people's opinions by misusing the planning guidelines, paying only lip service to their corporate duty to consult.

It gives a bad name to an exercise which should be built on respect; something we're acutely conscious of and working to remedy with every consultation and engagement project we undertake.

Bright and Bold For the NMC
In November and December Spring were asked to help support the Nursing and Midwifery Council with material for their Staff Conferences.
When considering our design we wanted to create something fun and creative to really show off the conference and get people involved in the event. We came up with a few ideas in the initial design we put forward to the events team at NMC, eventually choosing to move forward with a design that focused strongly on the brand colours of NMC with very bright and vibrant gradients. We used bold white blocks to contrast with the colours to help highlight the host and event details.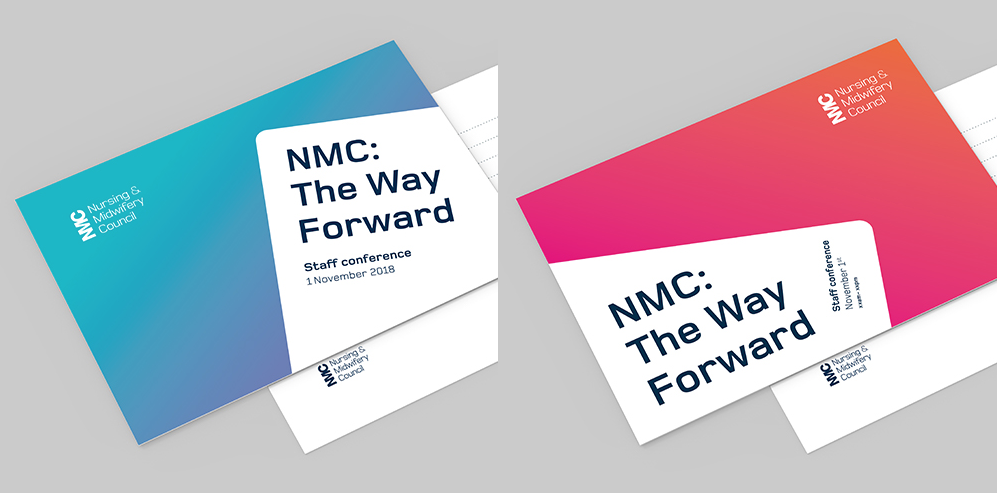 Initially we were asked to provide postcards that would be handed out on the day to staff members to pledge their goals for the year. In addition to this initial content we were also tasked with creating a number of pull up banners and supporting informational brochure for the event. The initial design for the postcards really allowed us to develop it in a direction that produced a number of roll up banners that when stood next together connected together through the gradient of colour.
For the brochure we inverted the design of the postcard. The gradients framed the content on the inner pages and added a bold colour and point of interest that also sat well overlapped on the images of the NMC staff.

Small Steps, Big Change
Spring is working with the NHS Clinical Commissioning Group in North East Essex on a campaign to promote self care this winter.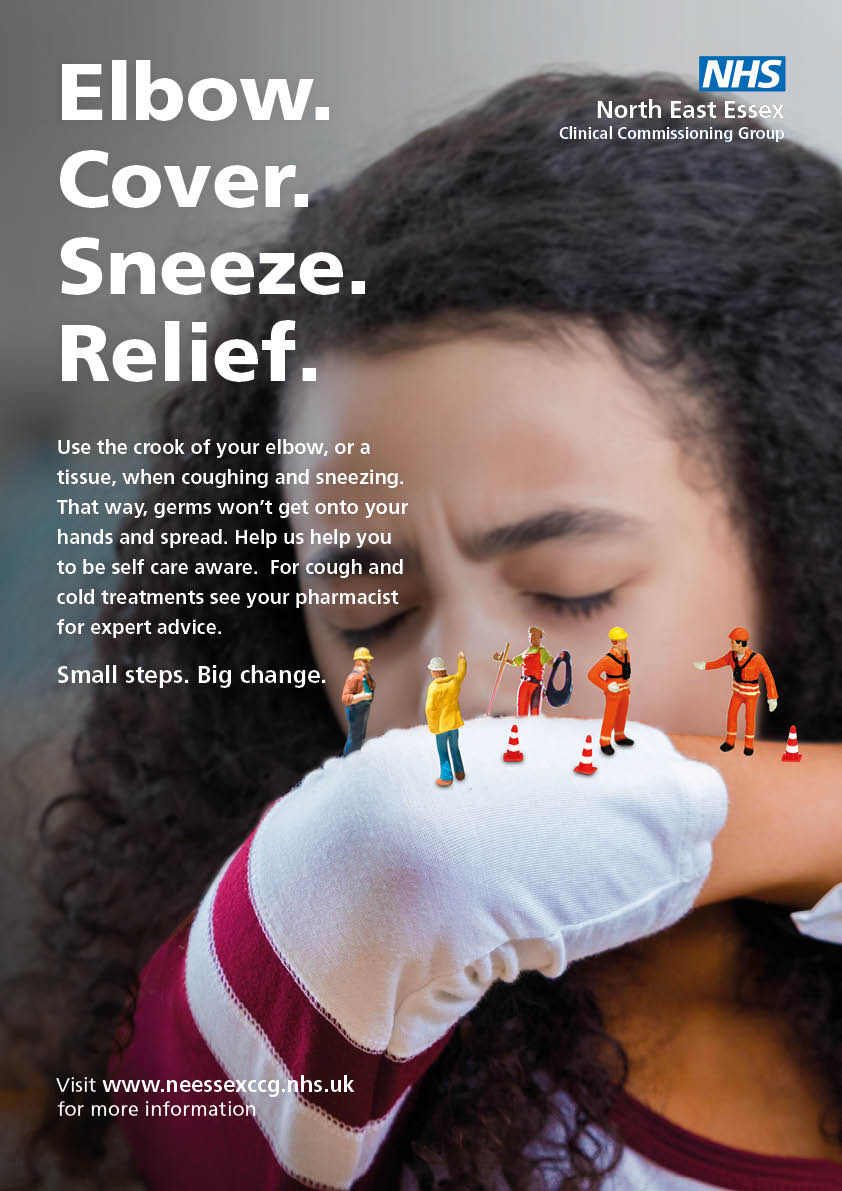 We've delivered the 'Small Steps, Big Change' campaign using online and offline creative, showing small figures helping people self care. They cover a range of different topics including sore throats, coughs and colds, beating flu, trips and falls, back pain and good hand hygiene.
It also provides information on getting quick expert advice and treatment from local pharmacists and NHS111. The aim is to raise awareness of how self care will ease pressure on General Practitioners and Accident and Emergency departments.
The campaign has a very broad audience, so we had to appeal to children right through to the over 70s. We also knew that the campaign would predominantly be print and featured in surgeries where there would be a multitude of other health care advice fighting for patients' attention. This provided us with a unique challenge to solve. We knew lots of text would be off-putting and difficult to read, so we created a large and bold title using a short rhythmic sentence structure which could be read easily and quickly at a glance. By structuring the sentences in quick bursts it helped highlight the small steps that could be taken to make big change in the public's general health and ability to treat it without visiting a GP or A&E. We supported the text with visually appealing imagery to help emphasise the self care messaging, using small figures to add a playful element to the imagery and emphasise the 'small steps' part of the message. Without the figurines the imagery would be generic, but now it draws the attention and appeals to a younger audience. It also allows us to be playful in future evolution of the campaign.
To help support the campaign in the digital marketplace we created a number of quick animated videos for Facebook and Instagram using the images from the posters and animating the text to catch people's attention as they scroll through content on the social media pages.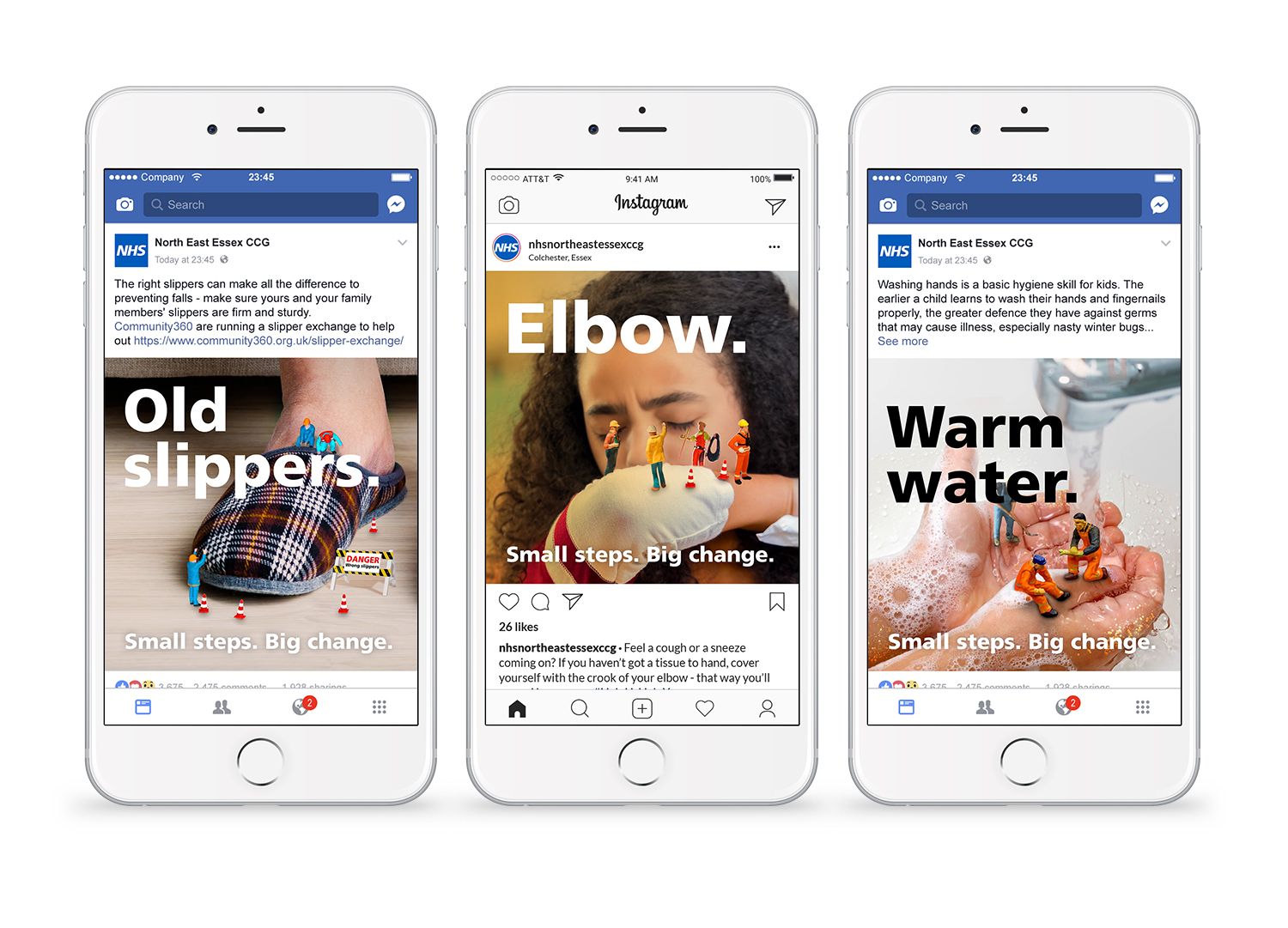 New Website for Haverhill Arts Centre Goes Live
New website design and build alert!
A summer in the making, Spring was brought onboard following a three way pitch to deliver a new website for Haverhill Arts Centre, Suffolk. With leading headline acts such as comedian Ardal O'Hanlon (Father Ted), Phil Jupitus (Never Mind the Buzzcocks) and popular West End shows especially adapted and streamed on their cinema screen like The King and I, it was key that the Arts Centre gave people a great experience from the moment they browse for tickets to attending the show.
Our approach combined form and function, bringing in a new colour palette with the use of gradient to inject personality without affecting the contrast of the content, and creating a fully responsive site that would help improve the user experience and make it easier to book on mobile devices.
Managing the website has also been made easier with the integration of event management and ticket booking system Spektrix, to ensure a streamlined process and simplification of content entry. A WordPress CMS system based on a drag-and-drop builder makes pages easy to create and flexible to match varied requirements.
Public feedback has been positive and the site is already taking bookings with ease.
Experience the website at https://www.haverhillartscentre.co.uk/
West Suffolk College hits the heights
West Suffolk College has just been recognised as the third best college in the country.
Having had the opportunity to work with West Suffolk College during 2018, its great to see them receive this accolade in the prestigious NICDEX league table, published by FE week.

Our work together on promoting Higher Education at the college allowed us to experience some of our own ethos in their approach with a focus on changing lives and knowing what matters.

East Suffolk Council branding up for award: and the votes are open!
Spring's brand identity is amongst the finalists in the frankly rebellious comms2point0 unAwards.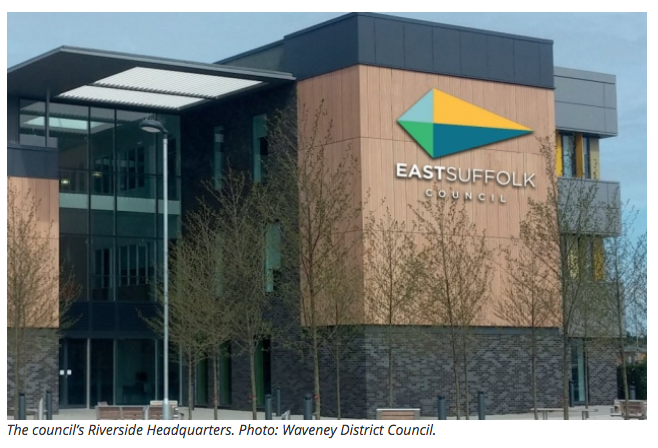 Working very closely with the council's communications team, we created a number of designs which they then offered up for democratic selection. We're delighted with the outcome: this was one of the proposals that had the strongest creative strategy behind it, and is very much fit for purpose and easy to deploy across a wide range of media.

It's worth saying that the amalgamation of two district councils, Suffolk Coastal and Waveney District, into the East Suffolk Council has made it the largest such authority in the UK.

Voting for the awards is a similarly democratic process, we'd be delighted to receive your support for our client's comms team on the site http://www.comms2point0unawards.co.uk/vote-now/ (it's number 15, Suffolk Coastal and Waveney District Councils, in the Best Comms/Digital Team category) by the 26th November – and here's hoping they'll be the happy recipients of a gong in Birmingham later this year!

We are recruiting: Consultation and Engagement
We are recruiting a consultation and engagement account manager, initially for a year-long contract with the potential to extend.

You will be employed at our head office in the East of England, and your week will be divided between Southwold and our clients' office about half an hour away with a requirement to be out and about at local events.

Your role will be to manage the day-to-day requirements of a large planning consultation programme, including: arranging and managing community events; handling ongoing communications including newsletters and media; updating and maintaining a database using Tractivity; regular high quality client liaison. Two days a week you will also support the agency on property marketing, consultation and engagement accounts.

Ideally you will have experience of consultation programmes, at the least you will have 5+ years' experience of working in communications. People skills are fundamental since you will be dealing with community members and will be expected to be clear, empathetic and responsive. Your administrative skills must be exemplary, there is no margin for error in the planning, management and recording of this project.

The rewards include the opportunity to work on one of Europe's most significant infrastructure projects, and be part of an agency that's progressive, ambitious and friendly and growing its consultation offer across the UK.

The contract is initially for one year, starting December 2018, with the potential to extend the role dependent upon successful delivery of other client accounts. Please send your application to su@agencyforchange.co.uk by 26th October.

Springing onto the runway with Collen and Clare
Spring recently had the privilege of supporting Collen and Clare's biggest fashion show to date at Henham Barns in Southwold, where they managed to raise a fantastic £4,000 in aid of the East Anglian Air Ambulance.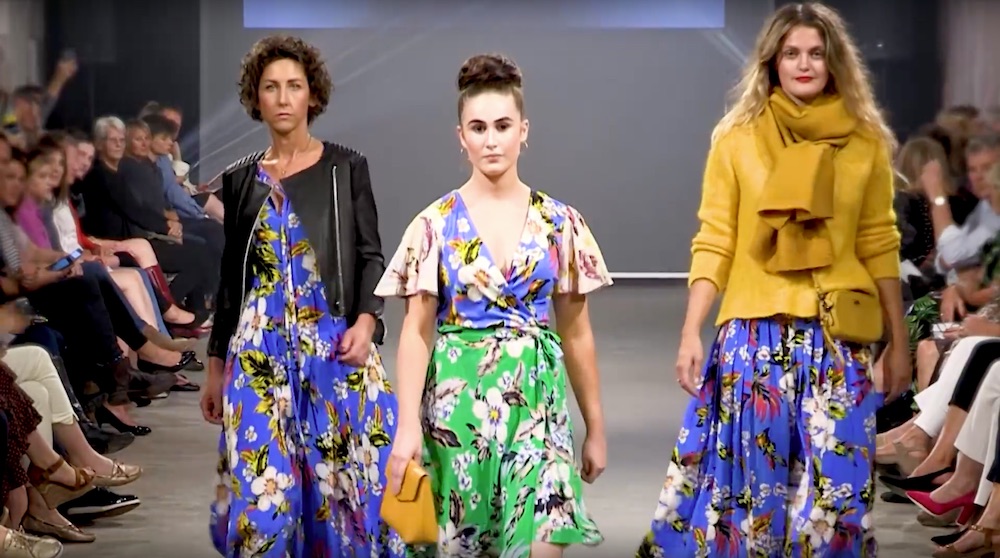 For the event, Spring produced an emotional video documenting Georgie Hammit's spectacular story of survival, which was only made possible by the Air Ambulance's ability to transport her quickly to the hospital for life-saving surgery. Spring would personally like to thank Georgie and her family for their support in making the video and sharing her emotional story with us and the public, showing the fantastic job the Air Ambulance do every day.

On the night itself, Spring was at the event to record the spectacular fashion show. Thank you again to all the models and event organisers for being so welcoming of us filming them all day in the run up to the show. And what a show it was. The local models did a fantastic job on the night and showed off the best Collen and Clare have to offer for the Autumn/Winter season.

If you couldn't make it to the star-studded event then we've produced a fantastic video showing some of the key looks from the evening.

Meet Mat – Spring's new designer
We are delighted to announce the latest addition to our design team, Mat Finch.
He joins Spring bringing with him years of experience in design, illustration, UX and UI, gained by working on projects on both sides of the Atlantic. Want to know more? His story is below:
Growing up in Crewe, I was your typical geeky 90s kid, Always playing video games and reading Spider-man comics. I can still remember my first Spider-man comic. I picked it up while on a holiday in Spain when I was about 6 or 7. I still have that comic to this day and is the most significant influence in me becoming a graphic designer and artist. I'm still in awe of the images held within those pages – they inspired me to take up drawing and drawing is what I did. Every opportunity I had you would find me drawing, my favourite characters from popular culture at the time like Sonic the Hedgehog, Earthworm Jim and of course Spider-man.

Video games were an equal part of my childhood. Not only for the hours of fun they provided for my brother and I but also the fantastic artwork, sprawling landscape and the escapism into an unimaginable world. They helped inspire me further into heading for a career as a computer games designer. However, for a short period, I did want to be a chef, which was odd as I'd hardly cooked a thing in my life leading up to that point.

I later studied graphic design at college, which introduced me to the world of art and design and how diverse it indeed is. I've never been quite the same since. Like many designers, I don't think I've been able to visit a restaurant since without judging the design of the menu. From here I went on to study Computer Games Design at the University of Huddersfield. I was able to apply so much of what I had learned within graphic design to create some fantastic content and bring a very design-oriented outlook to the game's design. However, it was always the user experience of games that fascinated me the most. How to lead a player through a level with subtle uses of level layout, gameplay and colour theory, and how this was different for everyone depending on their playing style.

After Uni, like many students, I moved back home to Crewe where there wasn't much of a games industry but I did manage to land a job as a junior designer, which reintroduced me to the diversity of graphic design that I'd discovered at College. I had stumbled into a forgotten passion. For a junior role I was given a lot of responsibility, designing email campaigns, website elements and product brochures and marketing material. I learnt a lot but soon felt I needed a change of scenery and after staying with friends in 'a fine city' called Norwich, I knew it was where I wanted to be and start out on a new adventure.

I eventually made the move to Norwich and have loved every minute of being here. I'm now in my fourth year of living in this beautiful city with my wonderful girlfriend Holly, who I have to admit is the driving force behind me opening up so many new horizons. Whereas when I was younger I couldn't cook to save my life, I now can't get enough of it. Even if I do end up making an absolute mess of my kitchen while I'm doing it. Bread, however, is my life and is the one thing I probably make the most of. Mainly a good pizza dough for some homemade pizza making. Once you've tasted homemade there's no going back to store-bought pizza.

I've even found a way of merging my love of design and food by helping Holly and her mother Val to launch Fine Norfolk Provender, a producer of homemade jams and chutneys. With my graphic design experience, we've been able to create a fantastic brand for a delicious product and can usually be found at various food markets in Norfolk through the year. We were even at the Royal Norfolk Show this year where we received some fantastic feedback from our customers as well as many other local businesses, which was a massive buzz for us all.

It's only due to my continued work as a designer over the past four more years that this has been possible. First at Fun-Stickers, a producer of kid's stickers, and then for Epos Now, a software company that provides Point of Sale systems for retail and hospitality businesses. I was again lucky to work in a role that was varied and diverse and allowed me to work for a brand that stretched across the Atlantic. Being the sole designer for such a large company also gave me the opportunity to develop the brand and help it transition from being a start-up to a business that is seen to be a grown up and professional company. Working for Epos Now also introduced me to the world of web design and in particular UX and UI design. Similar to games design, I love knowing what makes people tick. Knowing for instance that for every second a website doesn't load the number of visitors drop exponentially. This offers an exciting design and engineering challenge before anyone has even seen the website. It's this challenge that is driving the new focus of my work as a designer.

I'm very excited to be working at Spring where I can bring my extensive experience to the equally varied projects that they work on on a daily basis. I also look forward to being able to develop further as a designer and in the world of web design, UX and UI to help build amazing digital experiences and products for our clients. As I get settled in I'm already learning a lot from the team and excited to see where my future with Spring takes me.

Supporting the Queen's Awards for Enterprise in Suffolk
Last night a special event supported by Spring was held in Ipswich to encourage Suffolk businesses to put themselves forward for the Queen's Awards for Enterprise.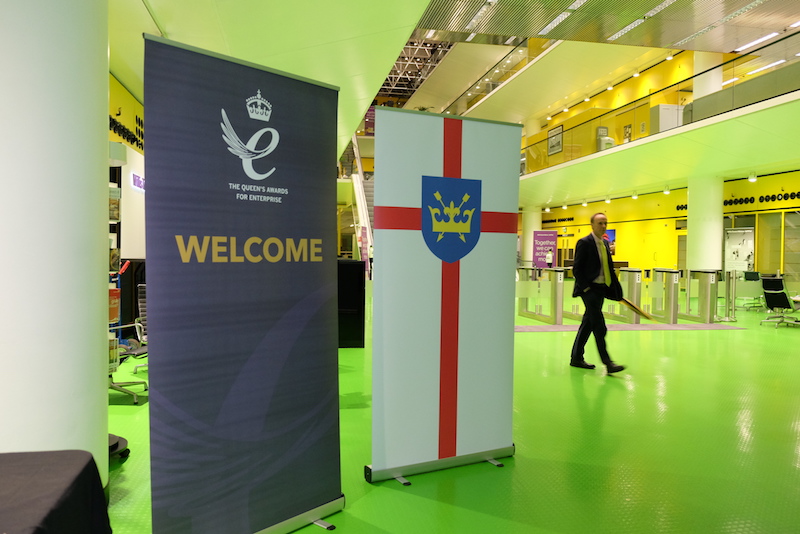 These awards are designed to recognise and encourage outstanding achievements in five categories: Innovation, International Trade, Sustainable Development and Promoting Opportunity through social mobility. They are the most prestigious awards in British industry, and winners report benefiting from worldwide recognition, increased commercial value, greater press coverage and a boost to staff morale. Winners are invited to a royal reception and presented with the award at their company by a Lord Lieutenant.

Spring supported the evening by designing the brochure and other artwork for the event. We chose a deep blue and gold palette which conveyed the nature of the awards, and paired it with a clear uncomplicated font that could be read easily and had a wide range of weights and styles for different applications.

 The brochure celebrates previous Suffolk winners, explains how to apply and shows what is to be gained from winning a Queen's Award for Enterprise.

 Suffolk has 60% more businesses per 1,000 people than the national average, and those businesses are more likely to turnover £1m and survive for five years or more, so it is only right they should be recognised with the top awards.

The future of water
"Where were the warnings – no one never told us! Who cared?"
Monday 9th July 2018. The location is The Epic Centre, Lincoln, and 140 delegates are anxiously waiting to be taken into the unknown. Having arrived to the launch of Anglian Water's new initiative Water Resources East (WRE), a project that brings together partners from a range of industries to collaboratively work to manage challenges aligned to water resources, our un-expectant guests were led to a dark empty hall filled with blue watery lighting and an eerie apocalyptic soundtrack.
Clearly not an event the delegates were used to, the guests looked on nervously as they were summoned in groups of 15 and taken through the doorway … into the future.
The year is 2060. In a little over 40 years the world has been turned on its head.
We ignored the warnings and the combination of climate change, population growth and wasteful, unsustainable water usage led to extreme shortages.
"Ladies and gentlemen, welcome, to the future. I must advise you to prepare yourselves for what you are about to experience. Once you step through, what you see may shock you. It may even scare you," explained our WRE time lord.
We had created a dystopian future, three sets that depicted the bleak future we face from the perspective of the general public, industry and environmentalist, all brought to life by actors in an immersive walk-through theatrical event.
Room 1: At Home – two protagonists shout and rant at our guests to give a hard hitting wake up call. "TAKE TAKE TAKE. Water companies just taking our money like business as usual, industries wasting our water," they proclaimed.
Room 2: Agricultural Farm – "Hey – do you need help, any work, whatever, I don't mind. But it's been a while. Not since the great drought have we had much here. I used to own a poultry farm," a desperate labourer explains.
Room 3: Rutland Water Reservoir – "People use to come here from all over. Take their Instagram…but it all went wrong when we had to start giving more of our water … didn't realise the impact they were having on the environment," the park warden cries.

Producing detailed sets and backdrops, writing scripts and casting actors, creating newsreels and headlines, and even creating murky water and cooking insects for our guests to drink and eat – this was an evocative launch event like no other. Far removed from the traditional speaker presentation and canapés this guest list would've been used to, we challenged them to act and join WRE after experiencing the dystopian future of water.
"Thought provoking look into the future of water" – Lincolnshire Rivers Trust
"Informative and enjoyable" – Defra Water
Spring have recently designed, built and launched a new immersive, interactive and educational website for Benjamin Franklin House.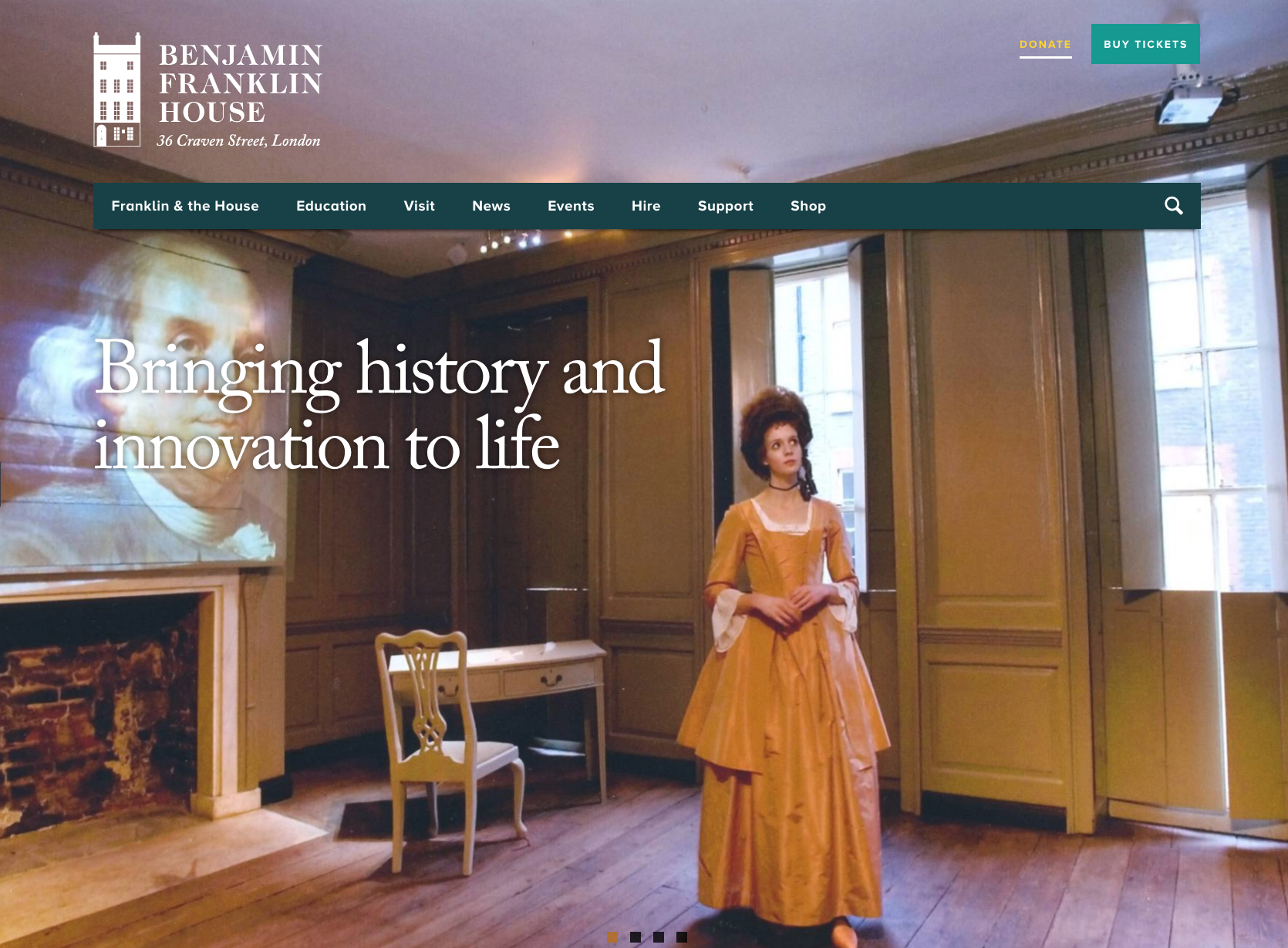 As part of their new Digital Resources project, the museum in London commissioned us to create an up-to-date and engaging website in celebration of Benjamin Franklin and his only remaining home.

Having experience working with stately homes and historic houses, including Houghton Hall in Norfolk and Gainsborough's House in Sudbury, we jumped at the opportunity to pioneer this exciting project.

Working in close collaboration with the team at Craven Street, we designed the new website to give visitors a real sense of what is offered at the museum, with a wealth of content so even those who are unable to visit in person will be able to learn about his life.

Best known as one of the founders of the United States of America, Franklin was also an author, printer, political theorist, scientist, inventor and diplomat. He is the only statesman to have signed all four documents that created the United States, and is also considered to have discovered that lightning was electricity using a kite, a key and a storm.

The museum first opened in 2006 to mark Franklin's 300th birthday, offering a somewhat unusual experience encompassing live performance, sound and visual projection and an immersive 'museum as theatre' Historical Experience.

Visit the site and learn more about Franklin here: http://benjaminfranklinhouse.org/

Are you a future Springer? We're looking for an Account Executive.
Spring, the Agency for Change. is looking for an ambitious graduate who'd like to kick-off their career in one of the most beautiful areas of the country as part of an excitingly fast-paced team.
An innovative strategic communications design agency, we are an inspiring workplace in the seaside town of Southwold, Suffolk with a new office just launched in the West Midlands. Our award-winning, talented and close-knit team is driven by a clear ethos and purpose to help grow businesses and regenerate communities.

You will be supporting the client teams including for Anglian Water, the National Citizen Service, Southwold Pier and Hopkins Homes, and be a motivated self-starter who can align to our Ethos:

• Bring Positive Energy
• Know What Matters
• Make Excellent Work
• Improve People's Lives
• Live Our Vision.

We will provide training and mentoring to the right person, and candidates should be able to demonstrate:

• Clear communication skills in person and writing, ability to fully listen
• Take day-to-day responsibility for projects and build relationships
• Can present confidently, and speak articulately
• Research clients' products, services, plans, competitors and target markets
• Ability to take on complex information and reach clear understanding
• Have an understanding of PR and social media marketing including the media landscape, latest platforms etc.
• Good organisational and time management skills
• Willingness to muck in and at times work on levels outside your core purpose
• Undertake or oversee data entry, ensuring accuracy and compliance with GDPR
• Be a proactive thinker and problem solver.

Please apply with your CV and a covering letter explaining why you'd like to work with us and the benefits you'd bring, to Gene Chui at gene@agencyforchange.co.uk

Exciting Monday awards news at Spring
Yes it's warming up outside, the sun's shining and we're starting to think about the first sea swims of the year – but we're feeling quite Christmassy today at Spring! Why? Because our Spring Christmas card has just been announced as a finalist in the Design Week Awards 2018.
Every year we try to ensure that our card is a covetable keepsake. In previous years we've sent everything from wooden fireplaces complete with a crackling fire app to download, to hand-drawn illustrations. Last Christmas, we painstakingly created paper craft spirals, which, when the provided pencil is pushed through, becomes a Spring Christmas tree.

Its recipients were tickled, and clearly it amused the judges for this year's Design Week Awards, too. These twenty industry leaders spent a day surrounded by the best design in Britain, encompassing the range from product, to interiors, to copy and graphics; and we are really chuffed that our Springy Christmas card received their endorsement.

So we're off to the Tower to lose our heads with the excitement of the Design Week Awards ceremony on the 26th June – fingers crossed we'll come back with something new for the awards table!

Spring arrives in the West Midlands
Spring has opened a Birmingham office, with the purpose of delivering our Consultation, Engagement and Outreach services to support the exciting growth of businesses and communities in the West Midlands.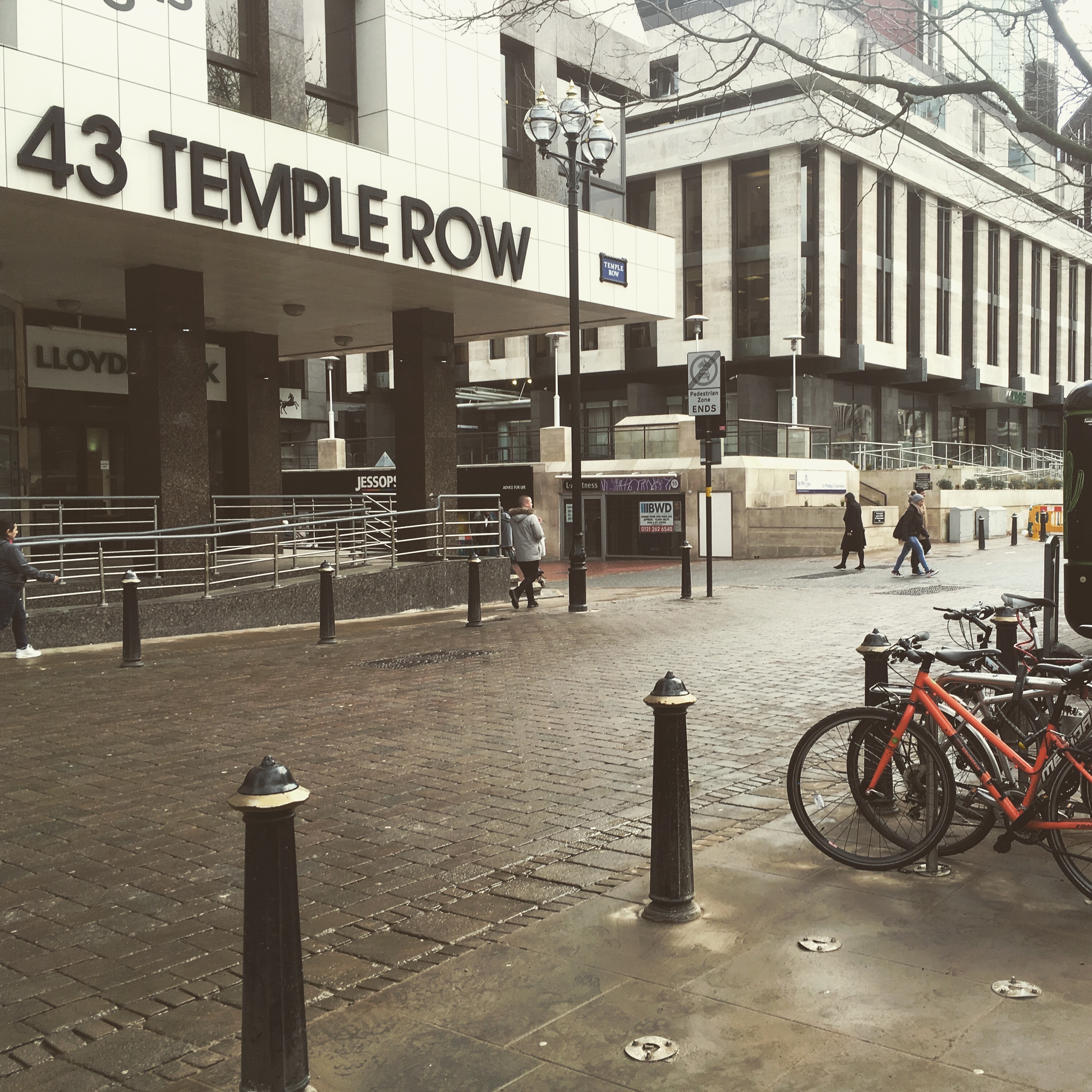 Birmingham is enjoying meteoric transformation at the heart of a region where positive change is happening at pace.

From Coventry's position as Britain's City of Culture 2021 to Birmingham's hosting of the Commonwealth Games 2022, there's a wealth of cultural excitement ahead. This, in a place where Spring client HS2 is due to see journeys to London cut down to under 40 minutes, with investment in supply chain and employment already causing impact.

Education, housing and infrastructure are all being addressed by organisations including the West Midlands Combined Authority (with an £8bn investment plan) and the government-led Midlands Engine.

As the Agency for Change, Spring's purpose is to help grow businesses and regenerate communities. Our Ethos of energy, focus, excellence, people-first and vision tallies with that of the West Midlands' ambitions, and is behind our decision to create a Spring belt across Britain. We've been deeply connected with the growth of the East of England through its businesses, cultural organisations and public services for over a decade, and are looking forward to bringing our skills and energy to the West Midlands as well.

The government wants the West Midlands to be a growth engine for Britain – and it's got the ambition and attitude to succeed. Spring is looking forward to working with and employing local people as part of this transformative era.

To find out more, work with us or simply say hello, do contact Erika on erika@agencyforchange.co.uk

We need another great Account Manager – is it you?
 Spring is looking for an ambitious PR Account Manager, looking for the next stage in their career based in one of the most beautiful areas of the country.
An innovative strategic communications design agency, Spring has its base in the seaside town of Southwold, Suffolk.  You will be supporting the PR Account Director and Digital Account Director to run Spring's Hyperlocal Everywhere Network, a national network of PR agencies that deliver Government campaigns, and will be the day-to-day contact for some of our most prestigious clients including Anglian Water, National Citizen Service and Hopkins Homes.
Spring grows businesses and helps to regenerate communities, and our talented, close-knit team is driven by a clear ethos and common purpose.  Find out more at www.agencyforchange.co.uk
Candidates should be able to demonstrate experience in a majority of following requirements:
Be a clear communicator, in person and writing, able to fully listen and able to present ideas with conviction
Be able to demonstrate great media and social influencer contacts
Take day-to-day responsibility for projects and client relationships
Understand strategic and tactical requirements and act appropriately
Assist with business pitches to win new clients or projects
Research clients' products, services, plans, competitors and target markets
Write PR and production briefs and contribute to technical specs and review work against them
Have a good understanding of digital marketing
Either alone or with colleagues, meet clients for briefings and present proposals, strategies and project updates to clients for approval, lead the discussion and listen to clients' words and their meanings
Brief agency colleagues, and work with them to plan and implement the response
Draw up detailed timeline and budget for work required in projects, with deadlines and responsibilities, and share with team
Propose objectives and measurable KPIs, working with a colleague to finalise them
Ensure that projects are completed on time and within budget
Take part in pitches for new contracts
Prepare and present workflow in project meetings
Be willing to muck in and work on levels outside your core purpose when needed
Undertake or oversee data entry, ensuring accuracy and compliance with GDPR
Please apply with your CV by 20th April to Gene Chui at gene@agencyforchange.co.uk