This month's 'Insight' news from the Design Business Association features our views on community. You can read the article here, or view it in full below.
Spring's promise is that we will help our clients connect with the communities that they need to reach, so it's essential that community runs through our business like the letters in a stick of rock. In fact, our belief in the importance of sustainable community is why we are here – firstly, Southwold on the east coast, and more recently, a second office in Birmingham.
When I launched Spring in 2006, after a decade or more working on significant regeneration projects in London, the UK and overseas, I realised it was an opportunity to put my money where my mouth was. I'd been banging on about sustainable community for years and now I could support the community in and around this seaside town with skilled employment, people using the town's facilities year round, and access to our services. And so I left London and we launched there.
Our recent move to a second office in Birmingham is not just in response to the exciting growth that's taking place in the West Midlands, and from east to west in what we've christened the #Springbelt. It's also because it's a real and colourful community, and we're keen to deploy our skills to ensure the community benefits from growth. With fast-paced change it's essential that people's voices are heard and that the benefits are felt at ground level – otherwise you're building on quicksand.
Political events over the last couple of years have demonstrated that political strategists had lost insight to the hopes and fears of people outside the patch. Spring launched the HyperlocalEverywhere Network in response to this, supplementing our own regional footprint with a network of community engagement specialists across the UK, generally in the less well-trodden zones of political focus.
When you need to deliver behavioural change – whether you are launching a brand, or pulling a hospital or school out of special measures – you want to focus on the smallest possible community. It ensures your message is clear, your budget is well spent and your chances of success are raised. That's essentially hyperlocal, and we have our own community insight methodology HyperlocalEverywhereTM which is used for information gathering and ongoing engagement with these communities.
Sometimes people in their professional roles underestimate people in their "target" role, and this is something we are cautious to avoid. To mitigate this, we work on a voluntary basis with communities, ensuring we understand them as living, breathing human groups, not data. This ranges from contribution to regional economic growth programmes to on-the-ground support for voluntary organisations, giving our team four half days off a year to paint, pour tea, chat and garden – in other words, anything that isn't what they do for a living.
On a strategic level we ensure participation in the conversations about change. We support the West Midlands Women's Voice, which is a network of senior women working to ensure the West Midlands Combined Authority embeds equality in its strategy. We contribute to New Anglia Local Enterprise Partnership's thinking on economic opportunity, talent retention and inward investment. We have advised Cabinet Office communications teams on community insight. These and other activities help us to maintain the 'big picture' thinking that's vital to ensure our commissioned community work has appropriate legacy as well as immediate impact, and to allow us to build up a tapestry of projects which combine to support change.
On the ground, as well as the kind of sleeves-rolled-up volunteering that keeps us in the real world, we also support small businesses that might not be able to afford our services with skills workshops, allowing them to create networks at the same time as learning best practice and future-gazing. We put aside budget to cover a small amount of pro bono work – for example, we are currently working with a boxing club that goes out of its way to support young people who are showing signs of disengagement, since they won't be able to provide that service if they can't survive commercially.
On which note, one piece of advice I would give to any agency that wants to start to deliver its own community outreach is – set a budget. Doesn't matter whether you set this in pounds or percentages, but be clear. It's much easier to say "No" if you can relate it to a budget, and also to ensure you select the best projects for your skills and experience. As an industry we know our tendency to see the work as the reward, but your own sustainability is essential if you are to carry on supporting your community.
The base line is this:
The world of work is changing. Rising costs of living increasingly mean we'll all be working for longer. Our always-on culture means that the working day never quite ends. Equality in the workplace will, eventually, seep into equality of caring responsibilities out of work. This means that, inevitably, the lines between work and home will become increasingly blurred.
The positive outcome of that is many more of us will decide that, in that case, work can happen in places which afford a better quality of daily life. Community is where character can be found, where the generations come together, where daily life has its own rewards; and so increasingly we will find ourselves part of that. Contribution is essential for belonging – enjoy it!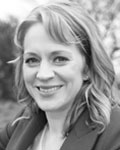 About: Erika Clegg
Co-founder of the strategic communications design business, Spring, Erika is also a DBA board director and digital route panel adviser to the Institute for Apprenticeships. Spring, the Agency for Change, helps to connect with people in the communities that businesses and economic development programmes want to reach. Their offices link East to West, forming the #Springbelt across an area of fantastic growth and progress.