We are delighted to announce that, in yesterday's Corporate Engagement Awards 2013 shortlist announcement, Spring has hit the finalists list three times, out of just 18 categories.
Our patronage of Southwold's increasingly popular Concert Series – about to embark on its fifth season – has earned Spring and the Southwold Concert Series the shortlist positions, alongside exemplar Corporate Engagement projects including the National Portrait Gallery and BT's Road to 2012 and Waitrose's Community Matters.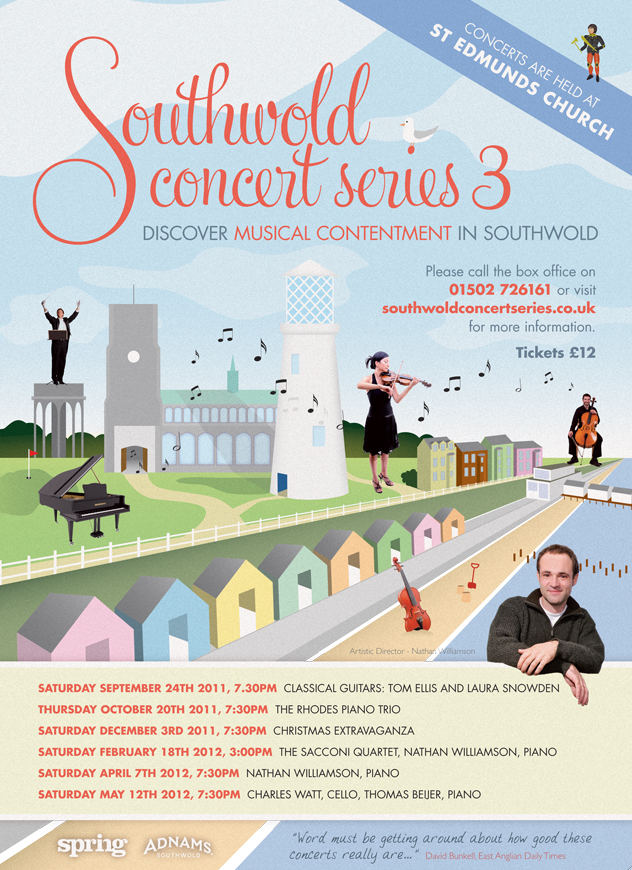 So why does a community cultural programme – albeit one from Britain's best-known tourism destinations – deserve to sit alongside these famous and undoubtedly better-funded projects?
There's no doubt that the Series is punching above its weight, but that's always been its aim. From its small start with one launch concert in October 2007, Southwold Concert Series has promised to bring the globe's most exciting performers to the very heart of Southwold.
The programme has seen world premieres, performances from Hollywood film stars, extensive philanthropic offshoots and a huge outpouring of community good feeling.
We think that the Southwold Concert Series demonstrates the very best of arts community engagement – with input from an ambitious company (Spring) that's keen to give back to its home town, working alongside other big-vision creative talent (artistic director, Nathan Williamson) – showcasing how a communities can really pull together to create cultural change.