Over the last few months, Spring has been working with councils, consultancies and energy providers to help launch a truly unique and highly ambitious project, Net Zero Leiston.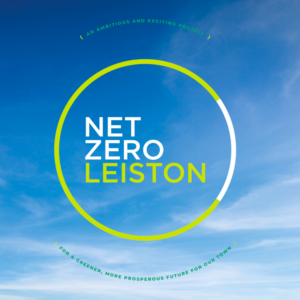 A first-of-a-kind project for a town the size of Leiston, Net Zero Leiston's goal is to create a net zero carbon community. Stakeholders include community representatives, local councils, engineers, a local energy consultancy, a low carbon strategy consultancy and EDF.
The project aims to engineer a route map to a Net Zero community in Leiston – driven by the community itself. With national and international reach in mind, we're creating brand and communications tools to help Leiston raise its profile as a leader in the green industrial revolution, and attract new opportunities to the area.
From the start, collaboration was key to this project. It was essential that the full spectrum of stakeholders had input, creating a sense of community within the project's communications.
Spring designed and created a bold and instantly recognisable brand strategy and identity to properly underpin Net Zero Leiston's ambitions. We then created, developed and populated a website and social media channels, working closely with the project's directors and honing our approach to clearly relay a complex topic. We have created a series of social media posts to accompany the campaign, allowing Net Zero Leiston to be heard on a local and global scale.
As with many campaigns, digital is accompanied by real world platforms, these are often a fundamental part of driving awareness in the immediate community.
We designed and created print materials to let the Leiston community know more about this, and seek their input. Community plays a fundamental role in Net Zero Leiston, and that's why – as of 7am on Friday morning! –  we had also hand delivered all 3,000 brochures on the doorstep of households throughout Leiston-cum-Sizewell.
We've loved being part of such a collaborative enterprise, and we will continue to support Net Zero Leiston throughout the project.