Maddy has just finished the second year of her degree in Graphic Design at Norwich University of the Arts. In June, she spent two weeks interning in our studio and got her teeth into her own design project.
"The brief was to design and create a beautifully crafted range of products to promote Southwold and Spring, with Southwold's tourists being the main audience for the products. The brief began with the idea of 'Southwold in Type.' Using type found around Southwold, I created a hand-crafted typeface drawn from letters found anywhere from shops on the high street to beach huts and The Pier. Once the typeface was drawn and then created digitally, I designed a range of postcards using the letters with Southwold and beach specific words on them e.g. A for Adnams.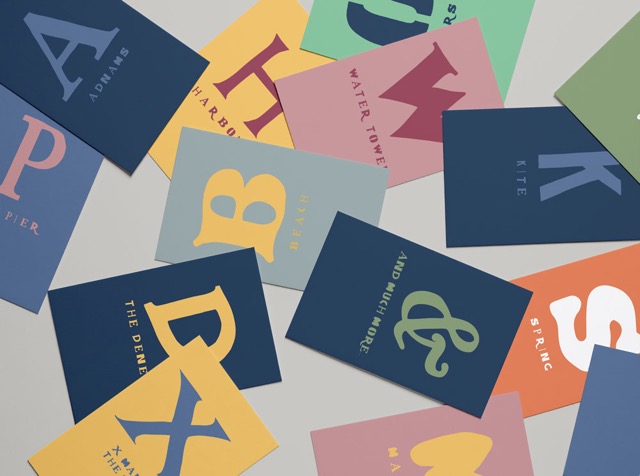 I then considered how the designs could be used across a range of products such as tote bags, towels, mugs, t-shirts and posters and become a special gift that tourists can buy and take home with them to remind them of their time in Southwold.
After getting this project to a point that I was happy with and felt fulfilled the brief, I decided to pursue an idea I had had prior to my internship at Spring. Iconic to the town, the row of beach huts lining the promenade is something that any local or visitor would recognise instantly. And, with each of Southwold's beach huts being ever so slightly different, I thought that it would be interesting to represent them in their simplest, most graphic form.
I took photos of lots of the beach huts in Southwold and then chose a select few to illustrate, using a very minimal and geometric style. Similarly to the previous project, I also applied my designs to merchandise such as bags, t-shirts, posters, stamps and stationery. I also began to develop how this could be expanded into a game for children in which they have to find the beach huts based on the illustrations.
I thoroughly enjoyed working on this brief during the two weeks I spent at Spring and have learnt a huge amount from the experience. Being given my own brief to work on over my time there, and feedback from their team throughout, allowed me to develop an idea from the initial stages through to a final design whilst also learning a lot about daily life in a design studio.
Thank you very much to the Springers for having me!"