Spring works with a lot of organisations on engagement projects, and they all want exactly the same thing.
To draw people into their purpose so far that those people actively want to respond. Want to change their behaviour. Want more / less / different / truth.
But that requires real emotional connection.
Here is the challenge.
People do not feel what they have not experienced. And that visceral sense fades very fast.
(It is a truth universally acknowledged that few women would give birth twice, otherwise.)
Remember falling in love?
Remember falling out with your best mate when you were eight?
Remember the sick-making panic of a traffic jam en route to a job interview?
Really remember?
Know what it feels like to be really, really cold in your own home?
Know what it feels like to win the big one on the Lottery?
Know what it feels like to lose hope?
Really know?
And that is the number one barrier to engagement. Because unless people really feel something, in their souls, they cannot commit at the level you want. And that is what motivates us at Spring.
Looking back at some of our best-known projects, there's always been a point at the start where we realise that people just don't care. And that unless we can drag them into the centre of things, they never will.
In every case, our decisions from that point are all about how we can do that.
How do we move them from their world (with all its priorities, distractions and tasks) into ours? Not for long maybe, but for long enough for them to get it – really get it.
To feel how it feels, to respond instinctively.
Take for example, Anglian Water's need to engage Policy Makers on one hand, and families on the other, with a five year water resilience strategy.
We live in Britain. It's an island. It's quite rainy.
Turn a tap. Clear water flows.
Parched? Grab a litre for 50p in the corner shop.
Kids love a splash in the pool, or the sea, or the garden hose.
Water. It's basically free, isn't it?
So right now, a deadline, a household bill, an impending birthday, tonight's supper and the cat's jabs are more immediate, more real than a long term view of water availability.
Our goal for both audiences was to overcome this torpor, and draw people in. To get their interest, input and in some cases their commitment to the future of Britain's water supply.
Fun of the Fair
Audience one: Families in the summer holiday, in a city centre. British, naturally inclined to avoid people with samples and clipboards in the street. Suspicious of being sold something and not keen on scrutiny or attention. In search of fun.
The solution: It's summertime. It's late in the holidays. Families want to do something intuitive and rewarding. Everyone knows what to do at a fairground, and people's instinct is to move towards the hubbub.
Our approach: Create a water funfair, where every sideshow educates and challenges about water use, whilst also being great fun. Fabulous games, beautifully designed and well made, created a colourful variety of activities, all together under the H2OMG! Banner.
Stands included loos painted and named like carousel horses, ipad quizzes and games, a water-cycle marble maze, and a huge 'waterwheel of fortune'. Truth at the heart, fun wrapped around. Big pieces – a 5m inflatable tap raised high on the fascia of Norwich's forum, ribbons streaming – and street performers drew people in and the colour, movement and variety keep them busy.
The result: Anglian Water was able to have really good quality conversations with thousands of families, who were genuinely interested and invested in the subject whilst at the waterfair.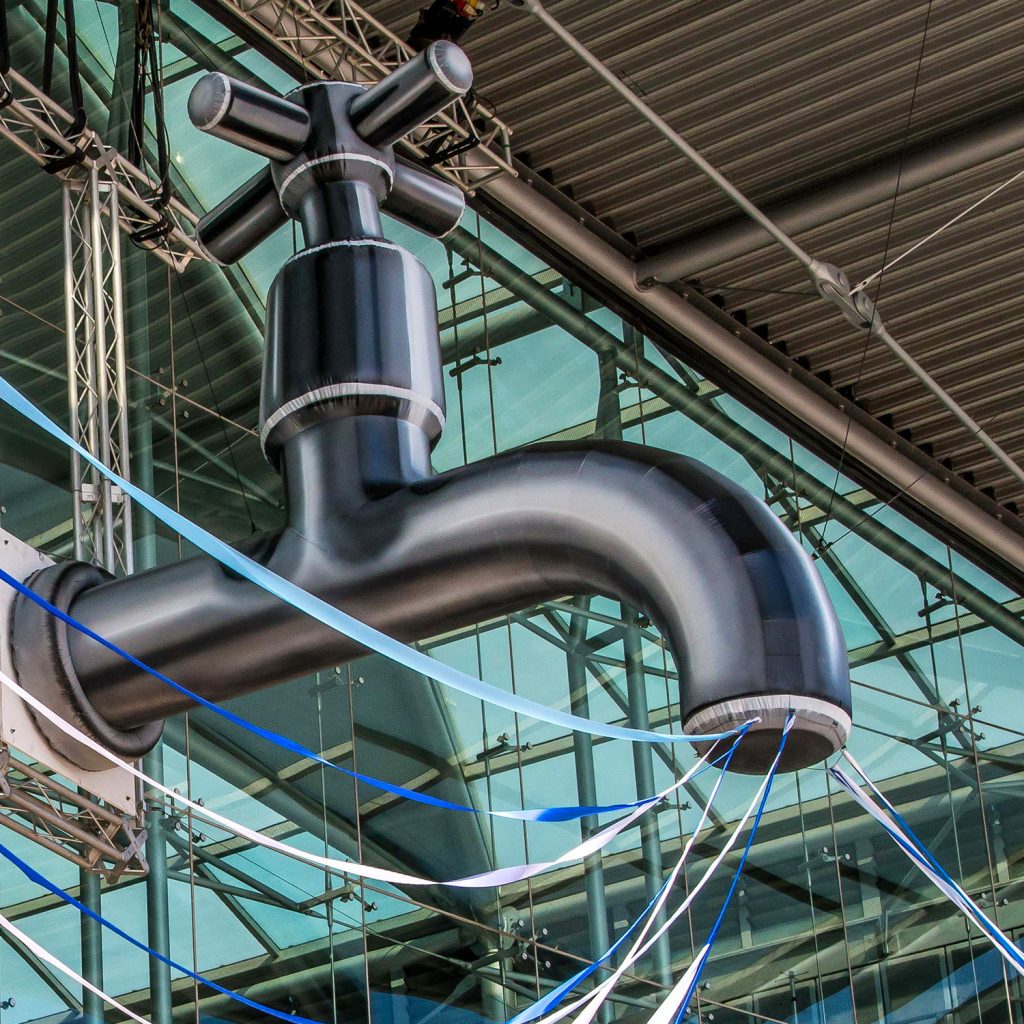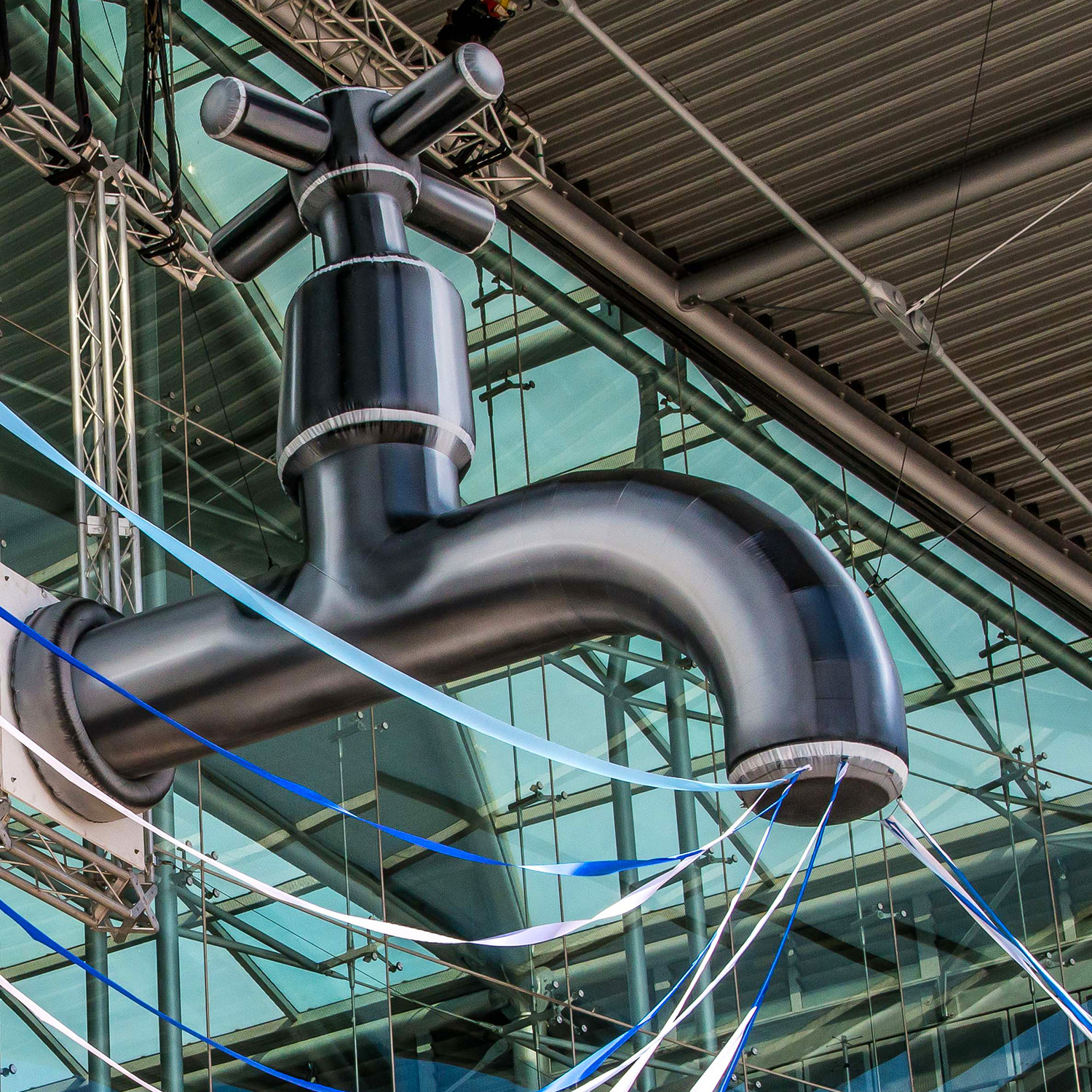 Plunged into Hell
Audience two: policymakers and high-level influencers. Busy people whose commitment is essential to the preparation and roll out of Anglian Water's resilience strategy. Distracted, under pressure, pulled in many directions and probably tired. Duty-bound to attend events.
The solution: Invite them to an event, lull them into security of the norm … and then plunge them into a dystopian nightmare. Shock them into a mindframe where the future feels frighteningly real, and their commitment urgent.
Our approach: Guests were warmly greeted in the 'splashing out' zone where lights, images and sounds immersed them in the bountiful, unlimited use of water.
Everything changed, however, as they were unceremoniously bundled into the immersive dystopia. A tight, uncomfortable space was over-populated by angst-ridden people with insufficient housing, food or water. TV screens played out news reports. Actors brought this terrifyingly to life, in a home, a factory and a condemned reservoir.
Once allowed to escape this hellish place, guests entered a showcase of global action plans to prevent it from happening. Refreshments (sustainable) were served and a panel discussion took place.
The result: Attendees universally committed to the ambitions of the event, signing up to a pledge and taking their experience back into their own organisations.  "Reality can be shocking, this was a very forceful way to get the difficult message across" was a typical reaction.

And so, to the future.
We thrive in the trust placed in us by Anglian Water and others to tackle their brief in such a bold, unexpected way.
These projects could both have been very different indeed. It takes a brave client to sign up for such an unexpected response.
But there are times when usual just isn't good enough. When 'best-practise' must be ignored. Where you need to really shake things up to make an impact. When the brief is so tricky, the audience so disengaged, the need so great and the gap so wide.
And as we know, unless people really feel something, in their souls, they cannot commit at the level you want.
And that is what motivates us at Spring.
If you'd like to know more, share your burden or simply chew the fat, we're on 01502 726161, or you can email co-founder Erika Clegg on erika@agencyforchange.co.uk