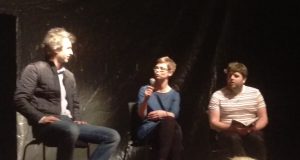 Twenty years ago, I was studying Law with French Law and on the third year of my four-year course, at uni in Paris. For pretty much the next ten years on, working at the London head office of a French-owned construction giant, meant that I spoke and worked more in French than English. And then came the move to Norfolk, and a new job with iconic British heritage brand Start-rite (and less French, sadly). That said, I managed to find an outlet for my second language in developing a PR campaign for the French market, including a press launch in Paris for the updated Classics shoes collection so popular with oh-so-fashionable Parisiens. After saying au revoir to Start-rite, my French fix over the next few years came primarily from holidays, introducing my girls to the joys of good food and camping in decent weather, and the odd cinematic treat.
And then in the summer of 2014, a serendipitous series of events involving a friend working at the Theatre Royal and the last-minute translation of a pitch to the Moroccan National Tourist Office, led me to Spring, where I have been happily employed ever since, and once again, spend much of my working day en français.
They say that what goes around, comes around and so last week I found myself back at the Theatre Royal, after a last-minute call from that same friend who is now involved with the Norfolk & Norwich Festival. My job this time was to join a local director and the French stage manager on stage for the simultaneous translation of a question and answer session, following Sans Objet, a performance piece between two dancers and a giant robotic arm salvaged from a car factory. I haven't done live translation for years and even then, never on quite such a formal basis, but being just a little bit brave, especially where my linguistic skills are involved, has always served me well in the past, and did so again on this occasion. Even better that I could share the experience with Spring's own cultural tourism expert, James, who has also been covering the NNFestival from his perspective.
In the same way that "giving something back" is high on Spring's agenda – the company donates a substantial amount of design and strategic thinking to arts organisations and charities – this was an opportunity for me to use my particular skills to help others to understand something better, and I'm pleased and proud that I had the opportunity to do so.