Spring has designed a new packaging range for premium quality dog food, Salters.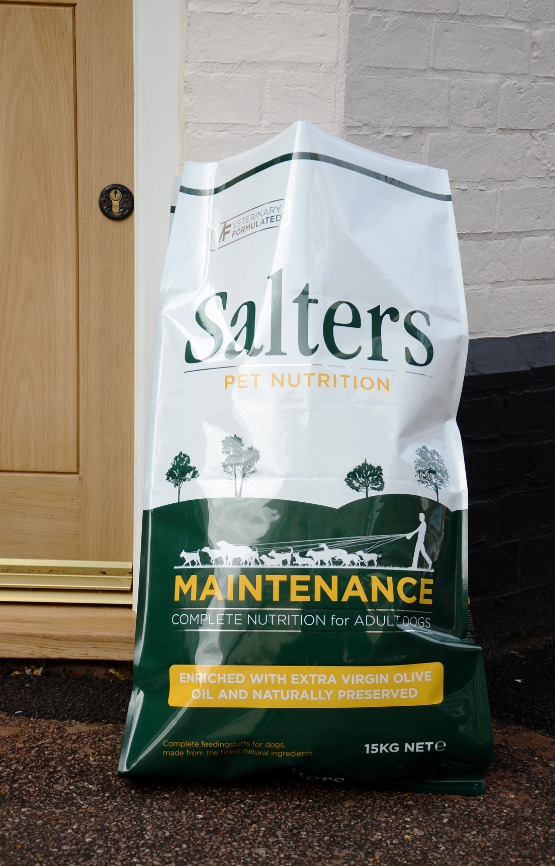 Its first appearance is on their most popular range – Maintenance. We have preserved the existing colour palette to ensure it's easily recognisable for loyal customers and fits in with the rest of the range during a protracted roll out. Our only colour tweak was to return the yellow to its original free-range-egg-yolk rather than the weaker yellow that had developed over the years.
Spring introduced the idea of people and their dogs, which for the purpose of this general use product is a pack of midlife dogs being walked across a park or field landscape by a dog walker or owner. This imagery will develop to support the purpose of each of the other three items in the range.
Salters only use the most wholesome, pure and natural ingredients, with no artificial preservatives, colours or flavours in their pet food range. Standard ingredients include Extra Virgin Olive Oil and human food grade chicken and rice.
Upon launch in 1999 Salter's set out to produce what they felt would be the highest quality dry complete veterinary formulated food for dogs. With many different foods, both wet and dry in the already over saturated market place, how could they make a difference?
Quality was the only way to go, so they researched many ingredients and with the help of nutritionists and vets they put together a high quality range of dog foods, packaged in four life stages.
The launch received a great response from the dog owning public. It was obvious that with our current understanding of our own health, that people have also become very much more aware of their dogs' health and indeed of what they may be feeding their dogs.
Spring worked closely with the eponymous Stephen Salter and his colleagues, and with the packaging production company who developed a new bag to support this range.