Now the application for a Development Consent Order for Sizewell C has been submitted to the Planning Inspectorate, and following the government's process, Spring has been taking the Planning Document to the local community to ensure fair access to the full submission. Because of Covid, this is happening by Library Bus.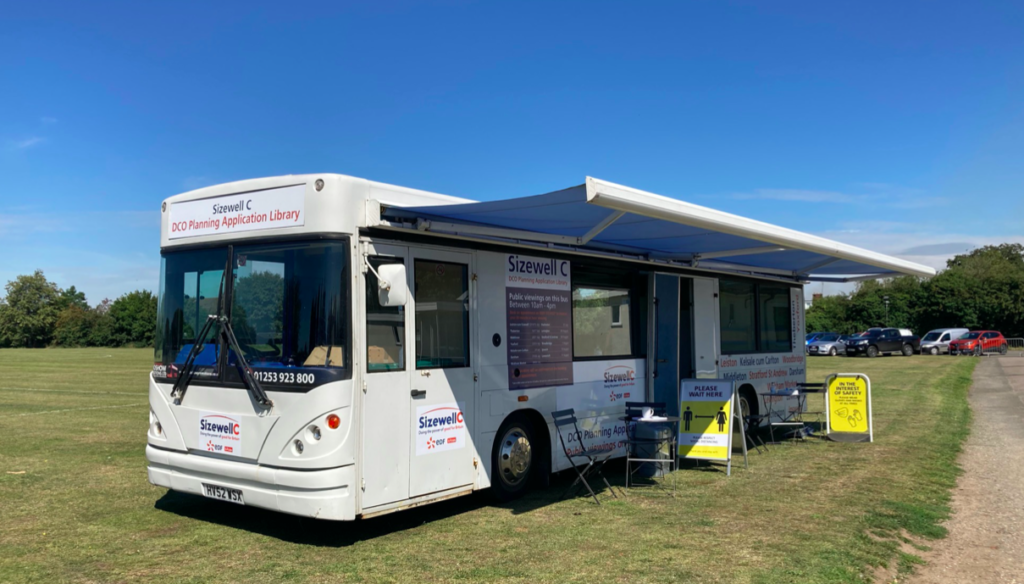 With the planning application for Sizewell C, a new nuclear power station, now with the government, EDF is required by law to make a print copy of the application accessible to local communities. This stipulation ensures that those for and against the project have equal access to the full document to help them make their formal response to the Planning Inspectorate.
It is our firm belief that people have a fundamental right to access these documents so they can respond to the Planning Inspectorate fully informed. To allow this despite the Covid 19 crisis, we have brought in a library van, which is large enough to allow people access to the multi-book document in a safe environment. It is branded with EDF and Sizewell C, and Springers Simon and Rea have spent July and continue into August taking the bus to communities. 
It's been a great disappointment that members of an environmental protest group have attempted to hijack the process, in many cases without PPE, potentially causing a health risk and creating a barrier to locals being able to read the planning submission. 
Whilst it's essential local community members with an interest in the project have access to this information, it's also essential that we protect them from potential Covid 19 risk. The bus is amply equipped with masks, gloves and hand gel, signage makes social distancing clear, the bus is regularly cleaned and visits are by appointment to allow safe management of numbers. People are invited to book an appointment to view the document. Whilst the Springers on board cannot consult at this stage of the process, they are extremely familiar with the document and will try to direct people to the book they need to view to inform their response.
In addition, Simon and Rea have a supply of preloaded laptops and iPads available for loan to allow people to view the document at leisure if they cannot get to the bus.
Despite the interference from the protestors, we've been tirelessly working to ensure that the document reaches the community members. It is their right and our responsibility. We are proud of Simon and Rea for focusing on what matters, meeting our obligations and making sure the community is able to access the Planning Document.