We've worked closely with Norfolk's Houghton Hall on the marketing strategy and design for the acclaimed EARTH SKY, Richard Long at Houghton Hall exhibition.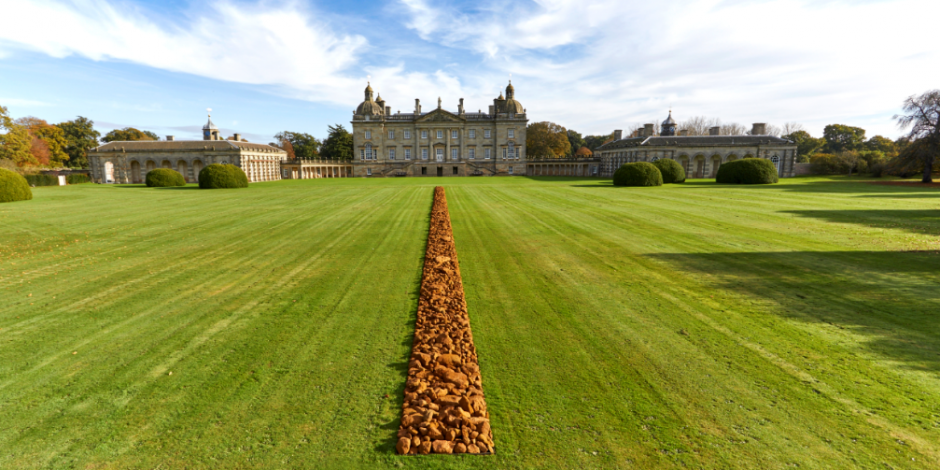 Considered one of the most important artists of his generation, Turner Prize-winning British landscape artist Richard Long has conceived and created each piece for its own particular place in the house and grounds of Houghton Hall. The exhibition opened on 30th April and runs until 26th October 2017.
EARTH SKY is the third of these large-scale exhibitions at Houghton Hall, following on from Houghton Revisited (2013) and James Turrell (2015). David, Marquess of Cholmondeley has a passion for art and a strong desire to share it with people in the setting of his spectacular home, saying "My hope is that in time Houghton will become a 'must-see' destination for those interested in contemporary art and sculpture".
Our co-founder and creative director, Erika Clegg, says: "This exhibition is a great example of how sense of place draws art and venue together to deliver a world-class event. To experience so many new Long pieces in the place from and for which he has created them is a once-in-a-lifetime opportunity and we have thoroughly enjoyed working with Lord and Lady Cholmondeley to launch EARTH SKY."
Project objectives include raising the profile of the exhibition, encouraging visitors to book ahead for the event, bringing more families to Houghton, creating a legacy that increases awareness of Houghton as a home of high quality contemporary art and supporting effective partnership, sponsorship and education programmes.
James Gorry, Project Manager says: "This is an exciting project for Spring to work on. It has allowed us to do really detailed work around target audiences, and to develop tailored communications approaches for each. Seeing a historic home embrace this level of targeted activity is really refreshing, and a positive sign of things to come across the heritage sector as a whole."
Spring has also developed the concept of beLong, a Heritage Lottery Funded-project to introduce local school-aged children to the exhibition and Norfolk's material heritage.