To mark the start of the year in which we will celebrate Benjamin Britten's centenary, Spring has relaunched the ever-popular Suffolk Coast website.
New features include a subtle redesign to make more of the imagery and bring the site in line with current web style. We have introduced a clean sans-serif font in place of the previous newspaper style typography. We have also reduced the text content on landing pages, and increased the image-led calls to action.
The site's identity has morphed from a summer to winter image of migrating geese, with a colour palette that evokes a big Suffolk winter sky.
Research into user journeys shows high demand for events information, so there are multiple routes into details of local happenings as well as clear signs of the site being kept very much up to date. Other heavy traffic areas are location articles, so again we have emphasised these in our layout and design.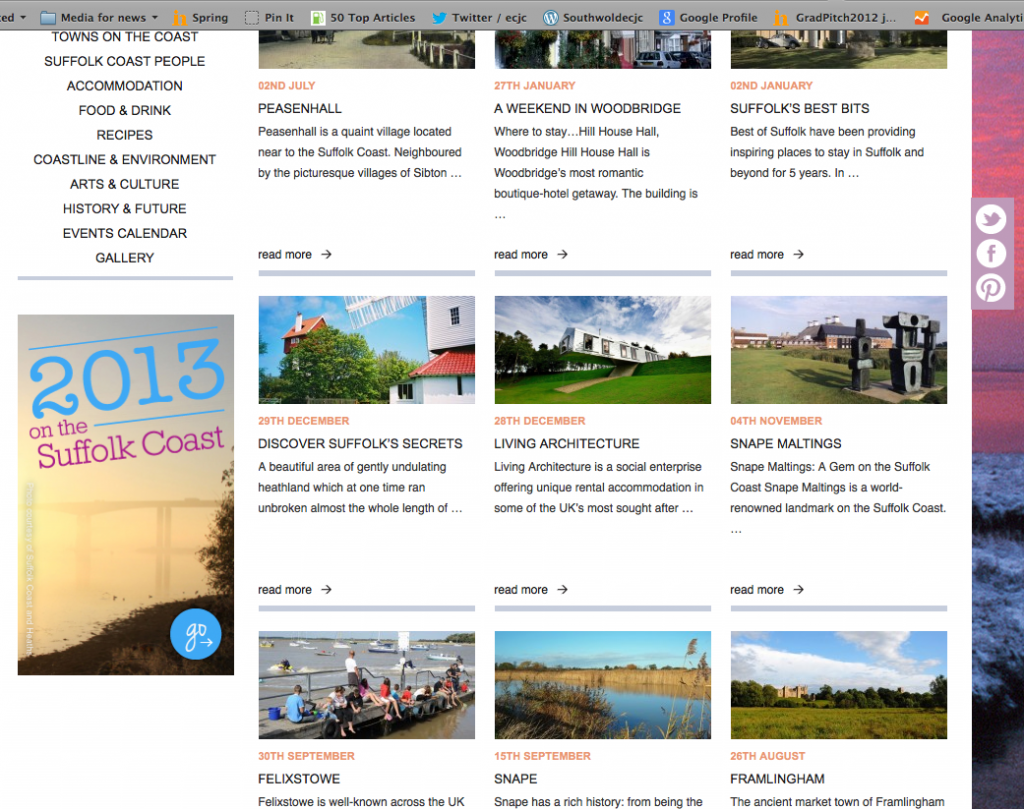 'Things we love' is in keeping with visitors' desire to see edited content – essentially, the best of the Suffolk Coast by those who know and love it best. The content of this section ranges from walks to shops, from recipes to attractions, giving visitors a flash guide to the region.
We have provided some neat short cuts – for example, a nifty little tool in the header bar summarises the weather in an appropriately conversational style, there's a quick sign up to seasonal emailers, and visitors are given tabs to social media networks.
Spring's content calendar for this site sees us creating three articles every week for the site, on subjects ranging from shopping to wildlife, local characters to unusual places to stay. This is the core of a site which is also populated by businesses and organisations located here, who tell us about their events, heritage and other matters of interest for us to edit and upload to the site.
The website was first launched three years ago as the digital home of a content strategy devised to engage an intelligent audience with an interest in the heritage, arts and culture of our area. This audience visits all year round, attracted as much by the Suffolk Coast's quality food and drink offering, its landscape and lively events scene as by its beaches and big skies.
Spring's consistent monitoring of visitor behaviour has led to regular redesigns as we maximise the site's useability for its market. Essentially an on line encyclopedia of the area, the site has achieved a loyal following and often features across other channels including the BBC.