The 'Take me to Suffolk' campaign created for Visit Suffolk by Spring, which ran for 16 weeks this spring, has created a Return On Investment of 32:1, generating over £1.2million in tourism business.
The campaign used a combination of social media, online marketing and PR to direct consumers to an online map tool. This provided people with information about Suffolk's top experiences and allowed them to create a personalised itinerary.
The 'Take me to Suffolk' map received over 29,000 unique visits during the campaign period and reached new audiences through social media in excess of two million.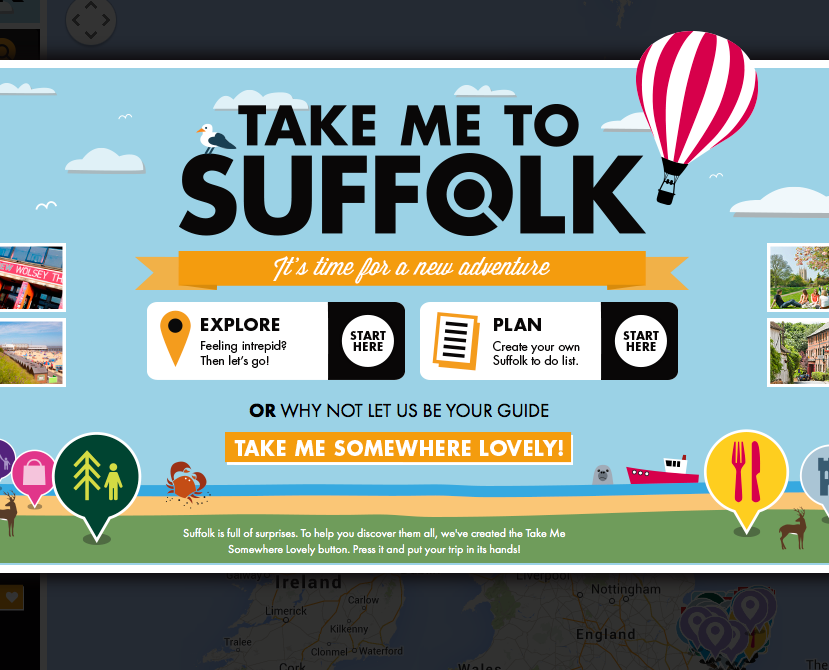 Amanda Bond, brand manager for Visit Suffolk, says: "The 'Take me to Suffolk' campaign offered a combination of great quality content with an interactive tool that proved hugely engaging. By capturing the public's imagination we have been able to deliver fantastic results for the county and for our partners who were able to promote their businesses on the map."
Visit Suffolk linked in with tourism businesses in Suffolk through a number of channels including a series of 'master-class' sessions around Suffolk on how they could get involved with the campaign. Around eighty participated, from small family-run attractions and accommodation providers to some of the biggest brands in Suffolk's tourism industry.
Research results revealed that 58% of those taking an overnight stay were definitely or partly influenced by 'Take me to Suffolk' – this equates to around 4,500 short breaks resulting directly from the campaign. The average length of a stay was 2.5 days with an average spend per person per trip of £135.77. Hotels proved the most popular choice for these visitors, followed by self-catering accommodation and then Bed and Breakfast.
A further 64% of day-trippers from outside Suffolk were definitely or in part influenced by the campaign. This breaks down to 19,631 visits resulting from 'Take me to Suffolk' with an average party size of 3.9 people.
Outside the East of England, the majority of visitors came from the South East including London, and the East Midlands. Around 30% have children living at home and a further 20% are Empty Nesters.
The research provides a highly positive outlook on visitor numbers to Suffolk for 2014 and beyond. Over 90 per cent of respondents who aren't planning to spend time in Suffolk this year indicated they would consider a trip to the county in future.