When it comes to content marketing we have our own best-practice approach at Spring.
It's enabled us to grow the online followings of clients such as Bollinger and Mark Harrod by the thousands, and in the two years since we launched The Suffolk Coast website it's helped us grow site visits from nothing to over 100,000 a year – something we're extremely proud of.
This May we were able to turn our attention to The Suffolk Coast's social media following, which had been growing organically since the site launched. We proposed an online competition: a ten-week prize giveaway in the run up to the high season in summer.
Rather than offer material prizes we decided to make use of the incredible experiences to be had on The Suffolk Coast: the gastronomic delights, encounters with nature, music events and outdoor activities that make this part of the world so special. We wanted the prizewinners to experience their prize and share it with a loved one, so that they could look back in many years' time and say, "Remember that wonderful weekend we spent on The Suffolk Coast?"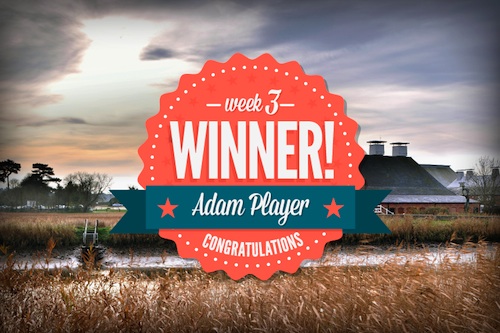 And so 'Win a Suffolk Coast Experience' was born – and what experiences they were! The prizes included golf and lunch for four at Thorpeness Hotel, lunch at The Brudenell and Café 1885, a professional photography tutorial, tours of the Adnams' brewery and distillery, a guided walk at RSPB Minsmere, tickets to Aldeburgh Music, a weekend break in a Suffolk Secrets holiday cottage and two weekend tickets to Latitude Festival.
With ten weeks of careful management the competition garnered an 800% increase in Facebook followers for The Suffolk Coast, and an astonishing 16078% increase in Facebook reach at the competition's height. In just one night the number of followers jumped up by 73%!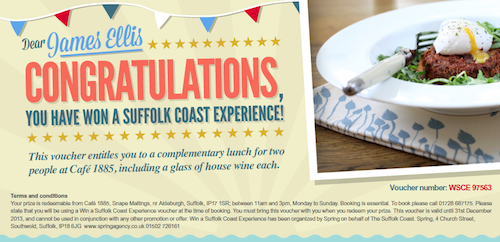 As well as growing The Suffolk Coast's social media following, the competition has also had a rather heartwarming human effect. We've received messages of thanks from every one of the prizewinners, leaving us in no doubt that they will be returning to The Suffolk Coast again in the very near future – a result that means more than any percentage ever could.