Last week, Maria Miller talked to arts executives from across the UK about the necessity for their organisations to present economic growth as well as cultural value. In these straitened times, everything anyone's money goes into has to demonstrate the ability to create a decent return on investment.
Naturally, there's been much debate about this ever since, with Dame Liz Fogan, for example, saying that
"accountants making artistic decisions …is as silly as having artists making accounting ones."
I'm torn on this. Clearly the arts cannot be a bottomless well for taxpayers' money: but of course it's often hard to demonstrate direct financial benefit. That's why our own regional Cultural board, on which I sit, is working with the tourism and heritage sector to create a combined and demonstrable impact on the region's growth across a number of streams including employment, reputation and income.
But Spring has certainly believed since the start that, if the arts are to flourish in the way available talent allows, it's for businesses to put their hands in their pockets, not just the taxpayer. And that's why five years ago we joined forces with composer and concert pianist Nathan Williamson to launch the Southwold Concert Series.
Nathan describes the Concert Series as
"…the result of all sides of a community – businesses, charities, artists, volunteers – working together. By bringing leading artists to Southwold we've raised the profile of the town and the businesses that support us. Spring are the major Patrons and have been incredibly generous, and other businesses have followed their example in sponsoring concerts."
The last few years have been significantly tougher for every kind of business and organisation than normal. Spring, in common with all of our peers, clients and suppliers, has had to work smarter, make some hard decisions and tighten our belts. But the one thing that has continued on an absolutely even level throughout the whole time has been our commitment to the Concert Series.
My view is that, when times are hard, the ability for a community to come together, to access high quality culture in its own environs, to have something that elevates everyone out of the daily grind to a more intellectually rewarding place, is irreplaceable. I see it very much as our duty to support that for as long as it is required and possible.
So we entered the toughest years of the recession with an ebullient redesign for Series programmes, website and publicity, and the message 'discover musical contentment in Southwold'.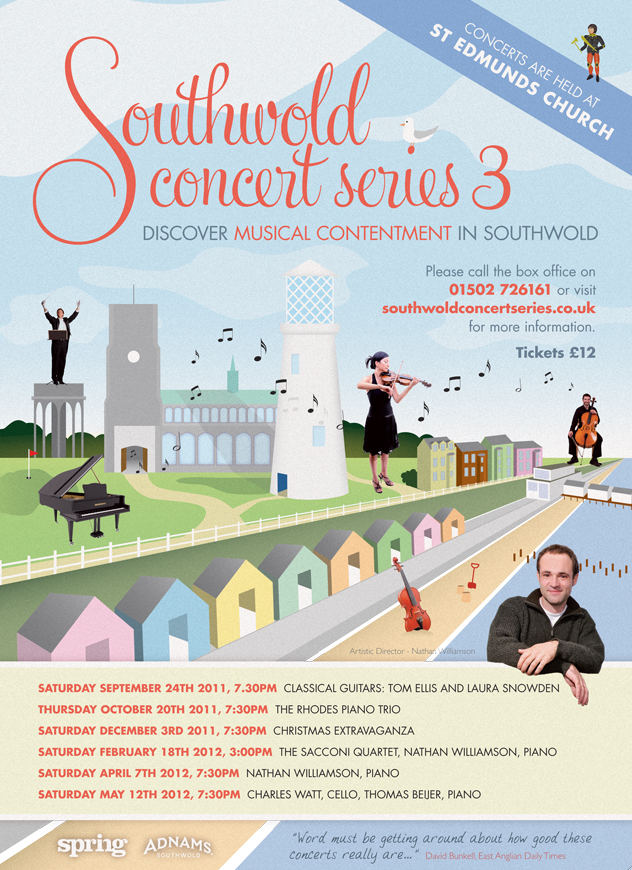 Our commitment to providing administrative support continued with our provision of the Series box office.
And when concerts don't quite break even, we have injected funds, too.
The result is that audiences have consistently grown. The Concert Series has added to the value of Southwold as a year round tourist destination for visitors from near and far. Local residents and workers can tap into world quality music in their own little town.
And why do we make this commitment – a commitment which adds up to at least five days of every month donated work, not to mention thousands of pounds in financial contribution? (In fact, we estimate that in time and money, the Series cost Spring around £36,000 last year alone.)
Of course, Spring's a creative business, albeit one focused on commercial objectives. To be so clearly connected with an arts project of this quality and profile underpins the creativity that is at the heart of the agency.
But it's more than that: it's that thing called 'civic duty' in which I am a real believer.
Not a day goes by when we don't think how very lucky we are to run a business like Spring – one of the top 10 most respected agencies in the UK – from the beautiful town of Southwold. To be able to work with clients from across the UK including the Conservative Party and Thwaites Brewery, who see something of themselves in our own pioneering approach – like where we call home.
And in underwriting the Concert Series, we have been able to give something back to our hometown. That commitment is our big 'thank you' to Southwold for providing such a great location for our head office, for sharing our brand values, for giving our staff wonderful lunch hours and weekends.
You can't root every business decision in profitability. Some decisions have to come from a genuine desire to be honourable. One of the ways that Spring fulfils that is through our patronage of the Southwold Concert Series  – just one route by which we support our community and the arts.